You are here
BIJU Lectures & PhD Seminar
Thursday, 26 November, 2015 - 11:00
to
Friday, 27 November, 2015 - 12:00
Campus: Brussels Humanities, Sciences & Engineering campus
Faculty: Arts and Philosophy
Department of Applied Linguistics
Brussels Institute for Journalism Studies (BIJU)
jelle.mast@vub.ac.be
THURSDAY, 26TH OF NOVEMBER: BIJU LECTURES
Keynote I:  Arran Stibbe (University of Gloucestershire) / 11.00-13.00 / Room G1.023 
"Ecolinguistics, the search for new stories to live by"
In this address, Arran Stibbe will describe a cognitive theory of ecolinguistics, examining the impact of language on how we think about the world, talk about the world, and act in the world. Of particular concern are the dominant 'stories' embedded in language which encourage people to destroy the environment: for example, stories of consumerism, of unlimited economic growth, or of nature as a set of resources to be exploited. He will describe the search for new ways of using language that encourage people to protect and preserve the ecosystems that life depends on.
Arran Stibbe is a Reader in Ecological Linguistics at the University of Gloucestershire. He is author of Ecolinguistics: language, ecology and the stories we live by (Routledge), Animals Erased: discourse, ecology and reconnection with the natural world (Wesleyan University Press) as well as numerous journal articles and book chapters on ecolinguistics. He has been awarded a National Teaching Fellowship and Senior Fellowship of the Higher Education Academy in recognition of teaching excellence.
 Keynote II: Marcel Broersma (University of Groningen) / 15.00-17.00 / Room L.2.210 
"Tipping the Balance of Power: Social Media and the Transformation of Journalism"
The advent of social media has changed the relationship between journalists and sources. Especially Twitter has developed into a regular news beat. Journalists use it to build relationships with sources and quote their tweets in coverage. Building on previous research on both journalism content and practice, this lecture shows how social media are impacting  journalism and the power relations between reporters and sources.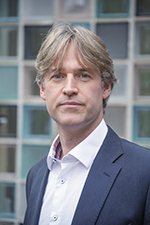 Marcel Broersma (1973) is Professor of Journalistic Culture and Media. He studied History and Journalism in Groningen and then worked as a freelance journalist and editor for the Leeuwarder Courant. Since 1997 he has been a lecturer on the Journalism degree programme of the University of Groningen. He was awarded his PhD cum laude in 2002 for a historiography of the Leeuwarder Courant. His publications include books on regional journalism and the development of journalistic forms and styles in Europe. Broersma's research covers the forms and styles of reporting, the relationship between press and politics, and regional journalism
FRIDAY, 27TH OF NOVEMBER: BIJU PhD SEMINAR
9.35-12.00 / Conference Room Department of Applied Linguistics, Pleinlaan 5, 3rd Floor
Presentation I: 9.35-10.20
Cara Brems, "Journalism of Connectivity - How social media affect journalism practice, news coverage, and public participation in the Netherlands and Flanders"
This project studies the impact of social media on journalism practice and how this affects news coverage in the Netherlands and Flanders: how do reporters integrate social media in their daily news gathering routines and how does this impact their professional identity?
Furthermore this research focuses on the ways journalists and news organizations use social media in their news texts and publishing strategies; and how social media impact the content and form of news and information dissemination. It aims to learn more about the way journalism is shifting from a mass media to a network communication paradigm and how this impacts the profession.
Presentation II: 10.25-11.10
Renée Moernaut, "Constructing 'climate change': A comparative framing analysis of news media discourses on climate change in the Low Countries"
The main objective of this project is to examine how climate change is framed in Flemish (Northern Belgian) news media discourses and NGO communication, with particular focus on how this framing evokes and relates to deep-seated cultural beliefs, myths and ideologies, including the anthropocentric-biocentric fault line. The case of Flanders is especially relevant since it is, next to the Netherlands, Europe's most vulnerable region in terms of flooding due to sea level rise, a major concern in climate change science and politics. Besides, Belgium's climate change policy is subject to strong internal controversy.
Our central research question is elaborated through three subdimensions: (1) local context, i.e. socio-cultural and political inflections; (2) media type, i.e. newspapers, online media and NGO communication, and the axes of mainstream/alternative, quality/popular, liberal/conservative; and (3) communicative mode, i.e. visual and verbal. Conducting an inductive-deductive framing analysis,  employing both qualitative and quantitative methods, we will reconstruct multimodal frames, and their cultural resonances, in media texts along these dimensions. As the literature does not provide a comprehensive multimodal analysis framework, we construct our own proposal, mainly drawing on framing research, (eco)linguistics, semiotics and Critical Discourse Analysis.
In order to do so, a sample of articles is drawn from three national newspapers, an alternative website, and an NGO (online) publication. This sample includes critical and more routine reporting of climate change-related topics in the period from February 28, 2012 onwards. 
Presentation III: 11.15-12.00
Maaike Van de Voorde, "Imagining femininity: A diachronic discourse analysis of women's identities and (partner) relationships as articulated in women's magazines and perceived by their readership"
Maaike Van de Voorde is a research assistant at the department of Applied Linguistics at the University of Brussels. In 2010, she already carried out the short exploratory research project 'Wife, partner or soul mate. A critical diachronic analysis of the representation of women in their partner roles in women's magazines'. In December 2013, Maaike was appointed research assistant at the same department again, where she will complete her research project in the context of a PhD.
Her research focuses on the representation of women's identities and (partner) relationships in Flemish women's magazines. Her study is threefold: in a first phase, she focuses on the textual representation of women and their partners by making use of a linguistic discourse analysis. In a second phase, she will also conduct a visual analysis of the images in the magazines. As Maaike is engaged in a joint PhD with the University of Antwerp, she'll make use of the expertise of the research group Media, Policy and Culture to carry out this part of her research. Finally, she will also study the producers' side of the publication of women's magazines. By analyzing interviews with former and present editors, she'll try to understand the mechanisms and processes used in the production of this specific type of magazines.