On Friday 26 May 2023, the faculty of physical education and physiotherapy held their annual networking event for alumni, students and staff (LK Generations). This year, the occasion included a celebration of Romain Meeusen's long and distinguished career, as he gets ready to retire at the end of September.
Professor Meeusen has had an illustrious career as head of his research group Human Physiology & Sports Physiotherapy (known under its Dutch-language acronym, MFYS), and held several chairs, including the Franqui Chair at the ULB in 2009. Within the faculty he was Vice-dean for student affairs (2012-2014), Vice-dean of the faculty (2014-2017), a member of the university senate since 2012, and of the Research Council and Innovation and Valorisation Council. From 2018-2022 he was Vice-Rector Internationalisation. The VUB International Relations office sat down for a chat with our former Vice-Rector, looking back on a very full career.
What was it like, being Vice-Rector Internationalisation and representing the VUB on the global level?
Romain Meeusen (RM): "Internationalisation always interested me as it has been a red thread throughout my research. But of course, 2018-2022 wasn't the easiest of times, because not long after I started as Vice-Rector Internationalisation, our then rector Caroline Pauwels became ill, and as I was the oldest Vice-Rector I took over her work, so I ended up with three jobs: Vice-rector internationalisation, acting Rector, and I had my job with MFYS as well. I handled it by physically dividing my time across the three locations: I'd start at 6.30am in my research group office, then I'd move to either the International Relations office or the Rectorate building, depending on where I was needed first, and in each location I'd focus on the job at hand to avoid mixing the various topics. It wasn't always easy, as the Rectorate office had ideas that were sometimes different from those from the International Relations office, and we had to reconcile those. And of course, then covid happened, which made my job as Vice-Rector internationalisation tough because I had to tell our students they were not allowed to travel. That was really not nice. We had to keep a clear and consistent message though, but it meant disappointing a lot of students, and that was hard."
And what did you enjoy most about being our Vice-Rector?
RM: "The people. Undoubtedly. They work so hard, and the International Relations office is consistently understaffed, forcing people there to be chameleons and juggle different tasks. They managed that, but it can be hard, but the effort and drive they put into their work is huge. I do miss you all. You are such a great team."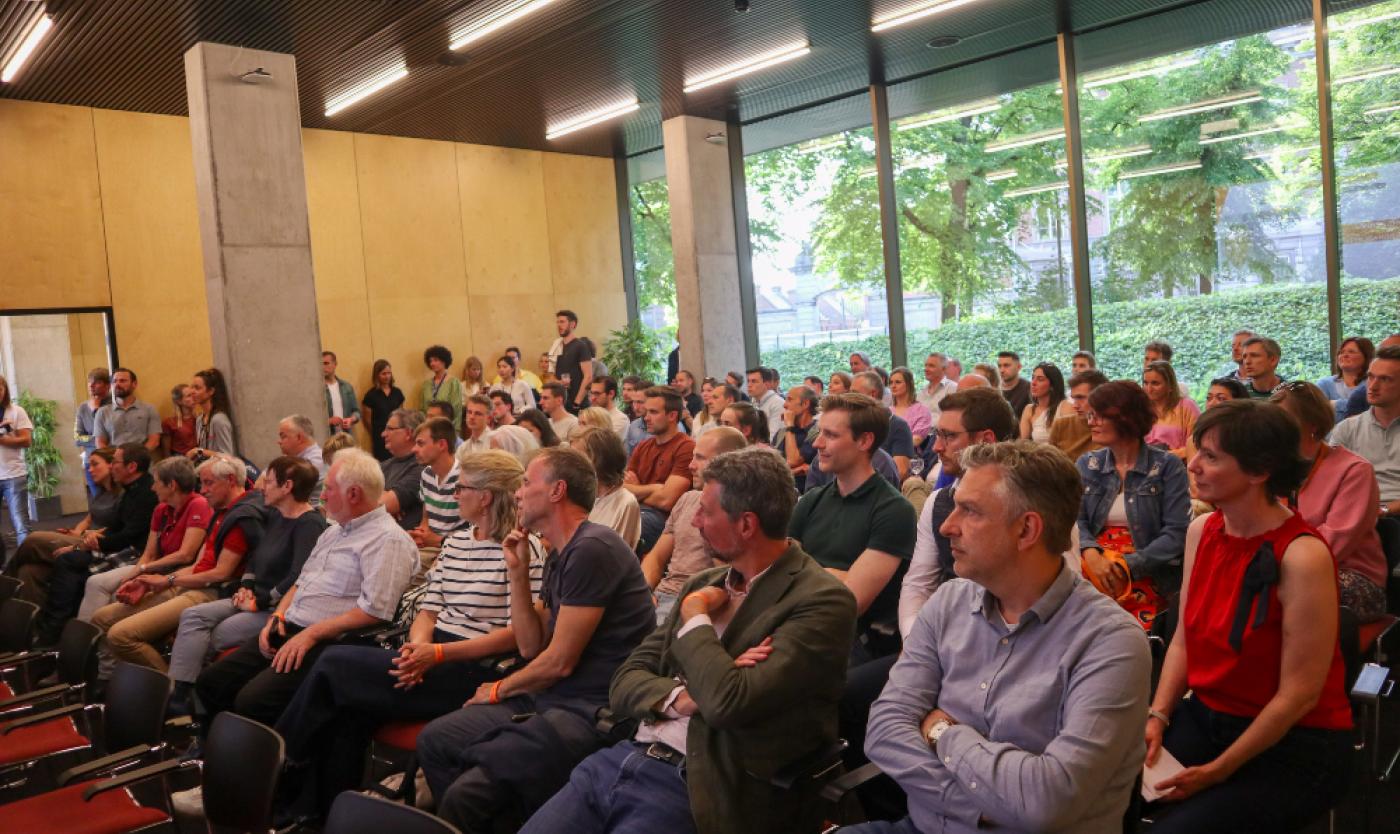 What are the career highlights looking back?
RM: "My career started with me asking the question, 'what happens in the brain during exercise, during exertion'? And a neurologist challenged me to work it out by testing the question on cyclists. So that's what I did, and it all snowballed from there, and I was the first in the world to do this. The fact that I can now leave everything in the safe and capable hands of Bart (Professor Roelands, now head of MFYS), is also a highlight because it makes me redundant, which has been one of my career goals: to make myself superfluous. It's now up to the younger generations to continue the work and push it forward."
This is the recurrent theme that comes across his colleagues and former students too. Bart Roelands: "Romain has been my boss since 2003, and after 20 years of working together, his mentorship is what struck me the most. Romain always says he doesn't work, that it's his hobby. Over the years, I've been mindful to take on his approach to life and work. Professionally, his legacy is omnipresent. What he started with his PhD is still pertinent today. Over the years we've built on it, things have evolved organically. I see no reason to change that, moving forward. We started with exercise and the brain, then injury was added in, commuter cycling was added but less so now, but the injury story is picking up again, along with the fast-evolving robotics research, but it all started with Romain."
Two of Romain's co-workers add to that: "Romain opened my way into robotics," Kevin De Pauw explains. "He is someone who knows how to get the best out of you in his own particular way. He seems to know exactly how far he can push you to get you to excel. At the same time, he always has time for you. If you need 10 minutes, you get them and not just for work stuff; for personal issues too." Bruno Tassignon sums up Romain in three words: "Class, trust, quality. Class, in that he's always straight-up and to the point; you know where you stand with him. Trust in the sense that he trusts his team, even the young academics, to take on responsibilities, so he delegates. And, quality because as a student, you hang on his every word." Those words are echoed by former student and currently physiotherapist with Sportunit, Marius De Bruyn (class 2018-2019): "Romain always knew how to bring across his message, and managed to infuse his lectures with anecdotes and stories to keep students focussed. He was great at getting his message across, and he really left an imprint on me, which to me is the mark of a good lecturer."
Professor Evert Zinzen, dean of the faculty, sums up Romain's personality: "He is an optimist, with original ideas, and very quickly in his career he found his research area, and became a leading world authority on the matter. His achievements are phenomenal, and he is clearly without any doubt one of the greatest researchers of our faculty. Becoming Vice-Rector was the perfect job for him, given his great management skills, his soothing nature and his diplomatic talent."
Romain, what will you miss most about the VUB, and what do you look forward to now?
RM: "I will miss VUB, because I grew up here. I started in 1976 as a student here, I got job offers from other universities, but not a bone in my body would consider working anywhere other than at the VUB. VUB is part of me. I've done what I wanted to do in my career, including skydiving when one of my students got her PhD. I've done it all. I still have 17 PhDs in the pipeline, but Bart and the various professors in the team take on the full mantle of responsibility and mentoring. I will keep an eye on things from the side-lines, as it's up to the younger generations now to take the lead. As of October I'll continue with all my hobbies, but just with a different time-focus. I'll maybe spend more time on my garden and with Gerda (his wife), and less on the academic side, although I'll continue with some guest lectures and continue to teach one class. As long as I continue to enjoy what I do, that's all that matters, because when your work is your passion, it isn't work."