Choose your route
Looking for the fastest, safest or easiest cycling route in Brussels? Be sure to check the Brussels route planner! To commute easily from Flanders, you can use the cycle highways.
The Brussels cycling map gives an overview of cycling routes, low-traffic zones and the Green Walk, a beautiful route for pedestrians and cyclists of 63 km within the region that crosses various parks and nature reserves. These maps are available at our campuses via greenteam@vub.be.
Parking your bike
On the campuses, there are publicly accessible bike racks at the entrance of most buildings. Staff and students can park their bikes in closed bike sheds.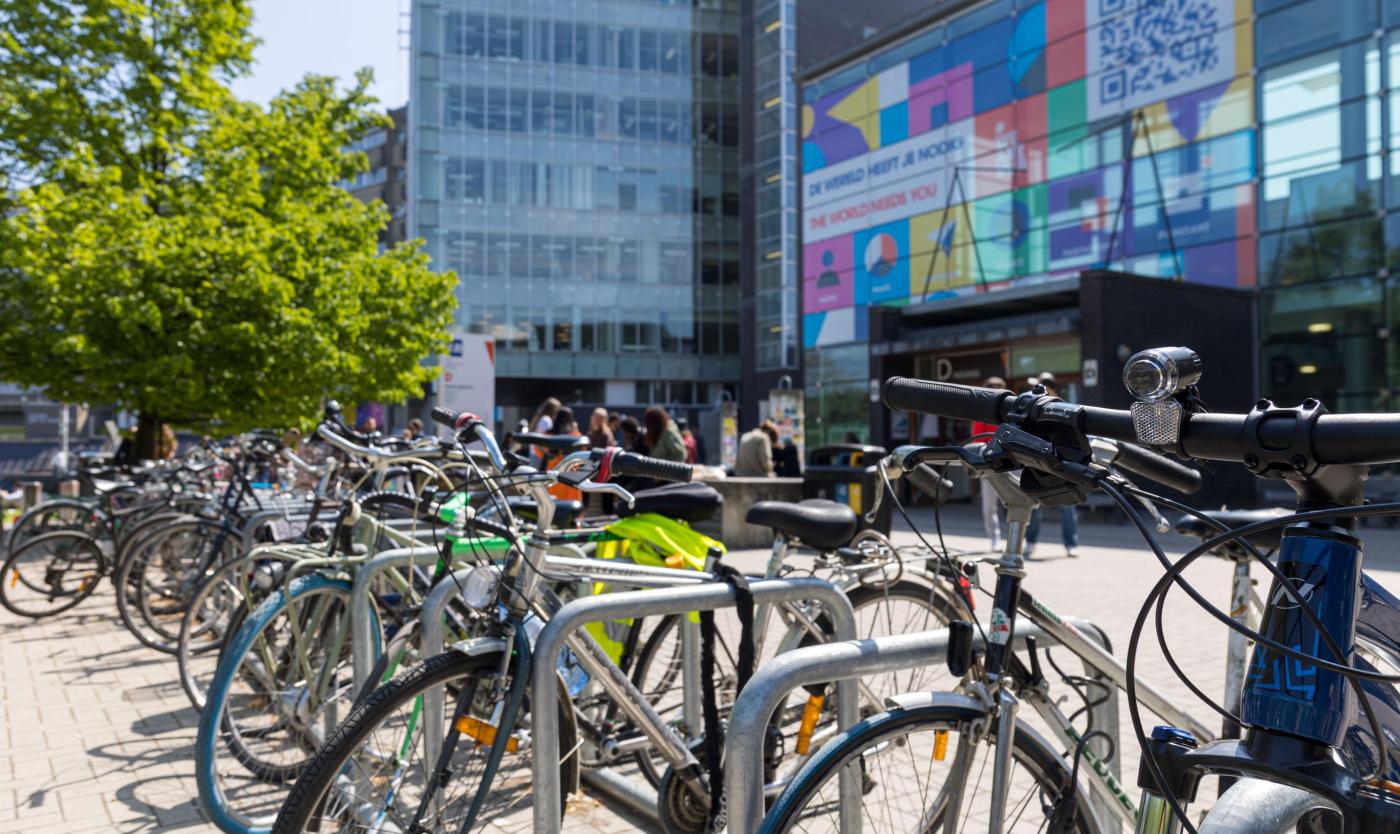 Is your bike in need of repair?
There a multiple bike maintenance and repair possibilities on the VUB campuses.
Where to patch your bike tube
If you have a flat tyre, you can borrow a repair kit with patches and glue and a bicycle pump from:
Bike repair stations
There are bike repair stations with tools for minor repairs on the campuses:
VUB Health Campus: entrance building A
VUB Main Campus: Esplanade (in front of Student Information) and at bike shed building K
Bike Hub Triomflaan
The Bike Hub at VUB Main Campus is operated by Ateliers de la rue Voot.
Activities:
Repair your bike under supervision of a professional bike mechanic. Cost: €15 + material costs
Bike rental for a day, month or year
Purchase of bike locks, lights...
Free engraving of your bicycle
Practical:
Where? Triomflaan 40, 1160 Oudergem (across VUB Main Campus)
Opening hours? Tuesday and Thursday from 1pm to 5.30pm, Friday from 4pm to 8pm (alternative opening hours during holidays)
More information? Visit www.voot.be/velo
Bike repair at VUB Health Campus
The Vélofixer, a bike mechanic with a workshop in a cargo bike, visits the VUB Health Campus in Jette three times a year. You only pay the material cost. If you want to be informed of the visits of the Vélofixer: send an email to mobiliteitscoördinator@vub.be.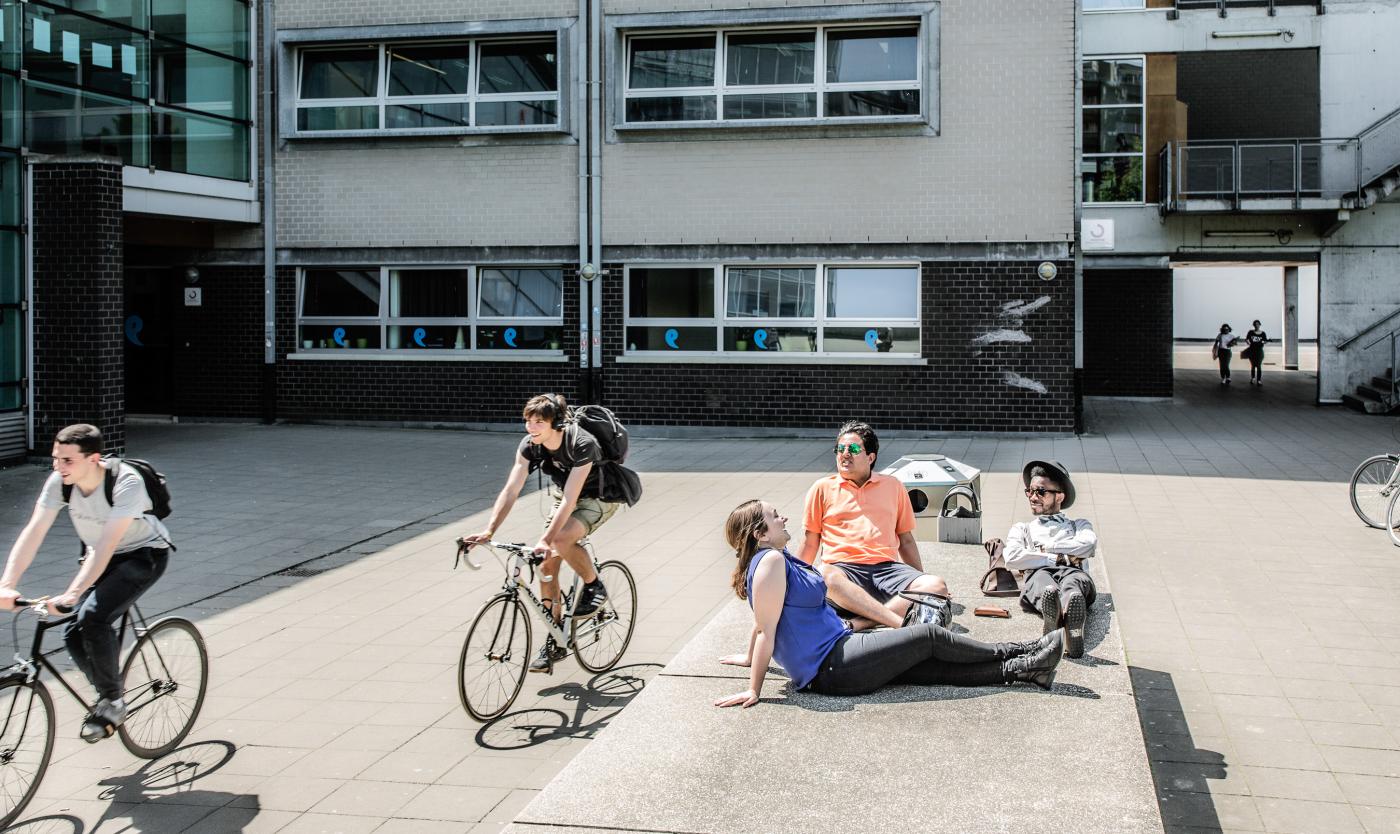 VUB Bicycle Working Group
The VUB Bicycle Working Group encourages cycling and supports VUB policymakers in making bicycle friendly choices.
If you would like to join the cycling working group or have a question or suggestion, please send an e-mail to fietswerkgroep@vub.be.
Cycling safely in Brussels
Make sure you are highly visible and have proper equipment.
Staff and students cycling to campus can request a bike kit. This package includes a fluorescent jacket, wraps, the Brussels cycling map and relevant cycling info. Send your details to greenteam@vub.be and receive your bike kit by internal mail.
You want to discover Brussels by bike, but would like advice from a professional? Get personal advice from a coach who knows your regular routes through Bike Experience.
Also be sure to check out this overview regarding safe cycling in the city.
Take measures to prevent bicycle theft:
Always secure your bike with a sturdy lock.
Have your bike engraved at the VUB Bike Hub.
If you have a more expensive bike, consider comprehensive insurance.
See anything suspicious? Call campus security immediately!
Be sure to report to the police if your bike is stolen (e.g. via an online police report).