Olivier Vanden Eynde can officially call himself a baron from 1 December. As a student at VUB, he founded the successful Close the Gap in 2003, which gives PCs a second life in Belgium and in developing countries. In 2019, he and his family moved to the Kenyan port city of Mombasa to set up a start-up digital hub.
On Thursday, 1 December, Olivier Vanden Eynde was a guest at the palace, where the king illuminated and handed over his 'credentials' and 'open letters' in an official ceremony. From then on, Olivier Vanden Eynde was officially elevated to the peerage. The title of baron is conferred by the king on "persons who have shown merit in their field and beyond, and persons of international standing."
The brand new baron Olivier Vanden Eynde at King Filip's side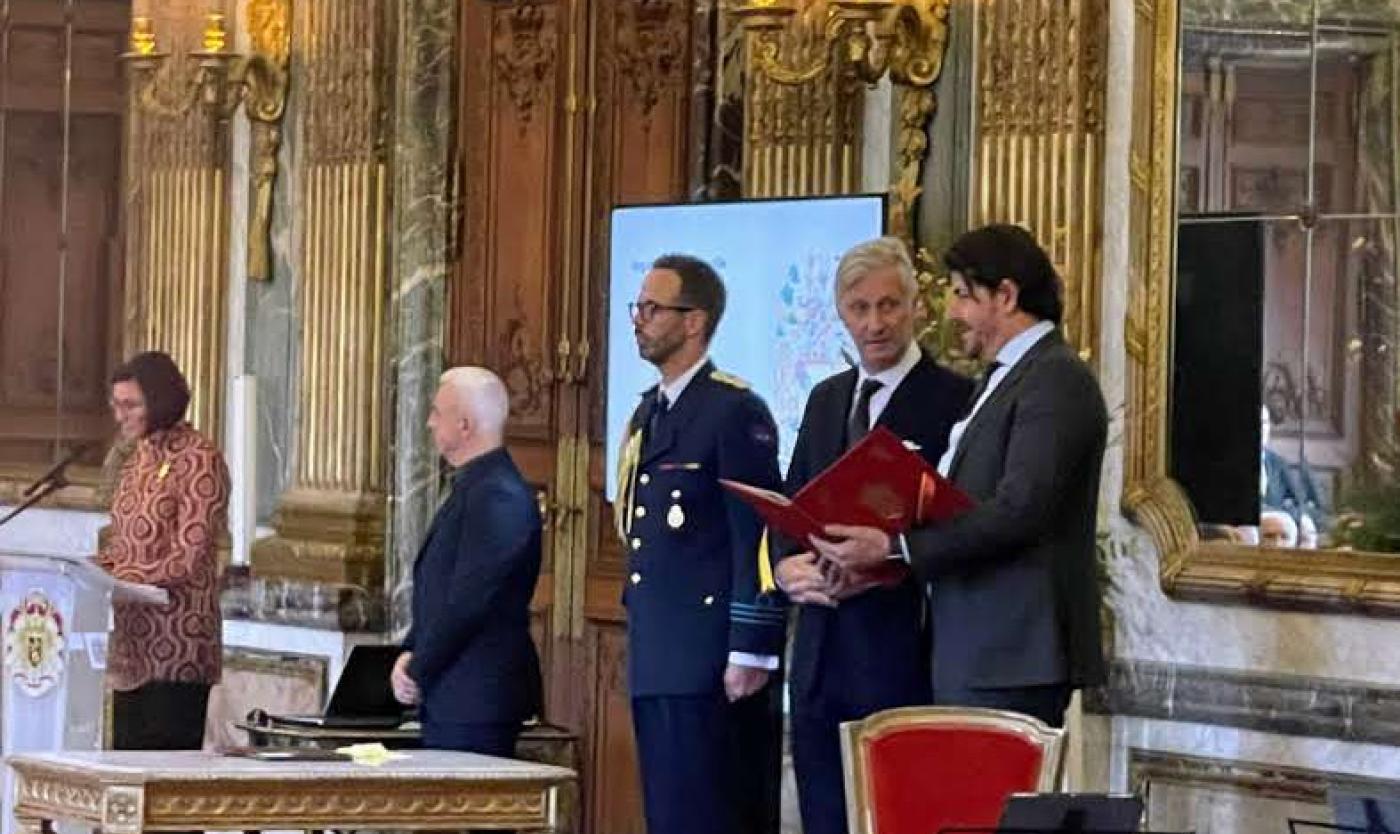 Olivier Vanden Eynde was appointed fellow of the Faculty of Social Sciences and Solvay Business School at VUB in 2020, where he graduated as a Commercial Engineer in 2003. During his studies, he founded his first social enterprise, Close the Gap, where more than 2.5 million unique users in developing countries gained access to modern ICT technologies.
In 2009, he founded a new company, WordLoop, to facilitate the establishment of an environmentally friendly e-waste management system in developing countries.
He also set up a social enterprise in Mechelen as an ICT recycling company under the name 'CTG Circular BV' which 'upcycled' nearly 200,000 computers, phones and tablets annually with 35 people. CTG Circular is the market leader in Belgium, contributing to digital inclusion at home and abroad. This is partly through its strategic partnership with Digital for Youth.be VZW, which has distributed over 20,000 laptops to vulnerable young people across Belgium in full COVID time.
Since 2018, Vanden Eynde has also been running a similar ICT upcycling business in Mombasa, as well as an innovation hub in central Mombasa. In it, he offers a fablab with coaching for start-ups and professional and ICT skills training.
One privilege a baron gets is the coat of arms he is allowed to carry. For his design, Olivier Vanden Eynde had a warm motivation. "The hands [in the coat of arms] represent the founding idea and life's work of myself, in particular Close the Gap, where the gap between Africa and Europe is narrowed with the ultimate aim of closing it to a more inclusive society with more self-reliant populations working together on an equal footing for facilitating sustainable developments that address societal challenges."
Het wapen
The crest's motto is 'Ubuntu', a saying by Desmond Tutu. "When we want to praise someone, we say: they have ubuntu". Ubuntu is a concept and philosophy unique to Africa. Freely translated, it means "I am because we are" or "Humanity towards others".