On 16 November 2022, VUB and Universidad Central 'Marta Abreu' de Las Villas (UCLV), based in Santa Clara, Cuba, signed a Strategic International Partnership (SIP), based on 25 years cooperation. With an estimated population very akin to that of Belgium (11 million), Cuba is in other respects very different to Belgium. It's three times the size, based in the Caribbean sea, part of the Latin American continent, and a country holding on to its socialist legacy. Its economy has suffered over the decades due to the United States of America's embargo and the changing geo-political realities. What followed was a decline in international development cooperation work, but not with Flanders. It's currently a country in flux and has been undergoing change on various fronts these last years, something Kim Van der Borght, professor in international economic law and diplomacy at the Vrije Universiteit Brussel (VUB) has noted in his capacity as coordinator of the Strategic International Partnership (SIP) VUB-UCLV.
It began with food security and agricultural research 
UCLV has been working with VUB for 25 years[1], and not many collaborations stretch that far back. Kim Van der Borght: "It all started with Prof. dr. em. Edilbert Van Driessche, Prof. dr. em. Sonia Beeckmans (both biochemists), and Françoise De Cupere now with the VUB International Relations office's university development cooperation team. The food security crisis that hit Cuba in the late 1990s, was responsible for the initial connection." Professor Edilbert Van Driessche explains how he got a phone call from Ecuador from former student and veterinarian, Françoise De Cupere, who was in contact with Professor Eduardo Cruz from UCLV: "He wanted to cooperate on pathogenic E. coli affecting various livestock and on antinutritional components in food and feed. So that's how we started up our first joint research project via VLIR-UOS's Own Initiative funding to improve food security, while also updating some courses in their Faculty of Agriculture, equipping a lab for protein isolation and characterisation, setting up a library on biochemistry and protein chemistry, training UCLV staff there, but also at VUB."
Professor Van Driessche continues: "This later evolved into a VLIR-UOS Institutional University Cooperation (IUC) programme, coordinated by VUB, which allowed the UCLV staff to strengthen their administrative, educational, research and outreach capacity. The IUC programme consisted of eight projects, each identified as priorities for Cuba and UCLV. It transformed UCLV from an important national player to an internationally recognised university that set up various partnerships across Central and South America and in Africa. At the end of the IUC programme, an ICT network was set up between six Cuban and three Flemish universities, with UCLV the leading one in Cuba, and VUB the lead in Flanders. This network is also supported by VLIR-UOS."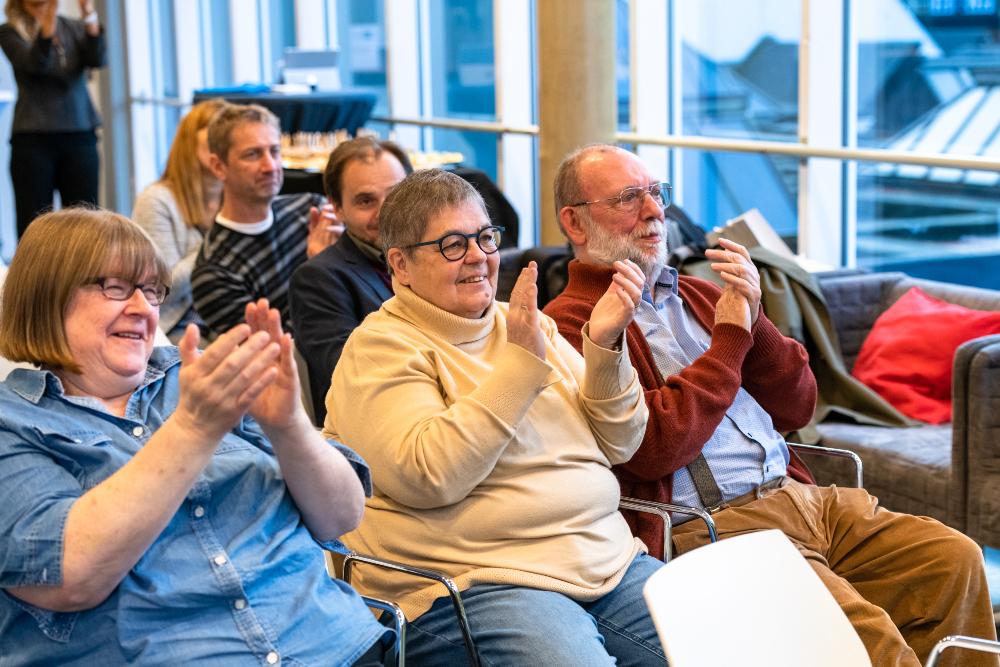 Strategic International Partnership
More recently (some 5 years ago), other fields were added, from engineering the humanities, such as criminology, and gender studies, with cooperation at the VUB widening up to also include e.g. the Center Leo Apostel (CLEA), the transdisciplinary interfaculty research centre with researchers from humanities, social sciences, physical sciences, and engineering. "The cooperation with CLEA will  broaden and deepen the partnership especially on the educational level", says professor Karin Verelst, CLEA-coordinator for the SIP. The university college in Brussels, Erasmus Hogeschool, also joined in. "It was this very wide multidisciplinary base that made us look at our relationship with UCLV on a different level," explains Professor Van der Borght. "The VUB's International Relations office set out the concept of a Strategic International Partnership (SIP), where the main criteria  included that three clusters, three disciplines (minimum) needed to be part of the cooperation work: social sciences, humanities, and engineering, and that – in line with the IUC philosophy – all three types of cooperation were included, i.e. research, education and mobility." The thinking behind the SIP is to broaden the cooperation across the universities even more; to get more VUB colleagues involved and create more interdisciplinarity by matching the science to the real world, to industry, to society. This is the main focus of the SIP: interdisciplinarity in research, education and mobility. "One project that is currently underway is on interdisciplinary research methods in sustainable development. Modules have been set up in English and Spanish. Some already existed in various faculties, and they are all made available via UCLV's moodle platform" Van der Borght explains.
The triangle
A couple of months ago, VUB also signed an SIP with the University of the Western Cape (UWC), in South Africa. An earlier link between UCLV and the University of Western Cape existed, but the two SIP agreements led UWC to invite UCLV to Cape Town to renew the collaboration with a cooperation agreement thereby creating a triangle of cooperation. "This is highly important to all of us. These are partnerships of equals in terms of research. VUB and VLIR-UOS provide the funding to support a partnership of equals", Van der Borght emphasises. "It is a clear example of VLIR-UOS's philosophy of collaborations between North and South, but also between South-South, as the University of the Western Cape and UCLV have already been working very closely together. The triangle VUB-UCLV-Western Cape is also an embodiment of our shared values, hopes and aspirations."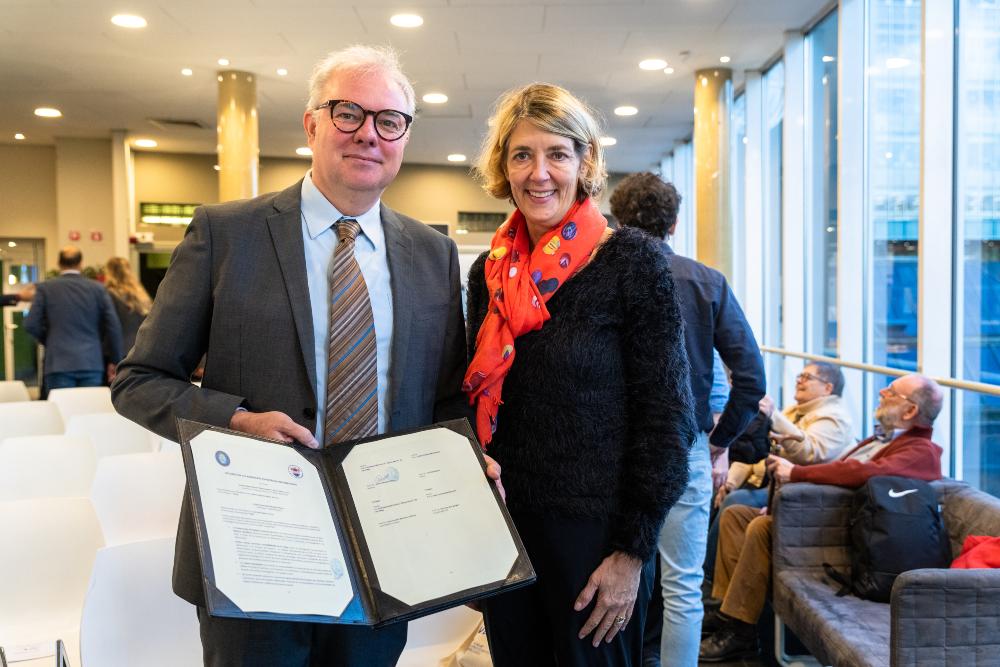 Human Rights Conference
All this, the SIP signing and the 25 years of cooperation between VUB and UCLV, were celebrated last week, with delegates from UCVL and Western Cape coming to the VUB for a series of meetings and the signing ceremony, but there was also an academic element, through an international conference on 17 November, entitled "Cuba and changing values in law & policy: a human rights perspective". The event showcases the collaboration that's been so successful, and looked at three aspects: the first one relates to the US embargo. It has affected the educational aspect of the partnership between VUB (and other institutions in Europe e.g.), and Cuba. The aforementioned modules on interdisciplinary research methods in sustainable development, were due to be shared via the VUB's educational platform Canvas. "However," Van der Borght explains, "Canvas has its headquarters in the US, so follows US legislation across all its offices around the world. In other words, we couldn't share anything via Canvas with Cuba, because of what is known as the Helms-Burton act where US federal law is extended towards foreign companies trading with Cuba. It means legal action can be taken against any non-US company that deals economically with Cuba. Internationally-operating companies have to choose between the US or Cuba. This is illegal under international law, under EU law, and a violation of international human rights because it violates the right to education. It's why we're now using UCLV's moodle platform ."
The second aspect of the conference looked at the impact of the embargo on the supply chain in relation to medical services, food provision, etc. It's totally hindered Cuba to develop economically. The third element is an internal one within Cuba, and falls under international European law, and relates to domestic reforms in Cuba. Professor Van der Borght, elaborates: "There have been quite a few constitutional changes, where our colleagues from UCLV were actively involved. They helped out in talking to local communities, local organisations, and looked especially at constitutional and at family law. E.g. recently same-sex marriage has been legally recognised. This is big progressive change, one you could argue some EU Members States could learn from. Cuba is definitely moving towards a stronger recognition of human rights within their constitutional order and family laws. The country has also diversified its international relationships. It has strong ties of course with China and Venezuela, but it has good relations with the EU and Mexico for instance."
The papers from the conference will be published by VUBPress as a book in the series, "Socioeconomics & Law: Making a Stance for Changing Values" (Byttebier & Van der Borght). It will be the first book by VUBPress with contributions in English and Spanish.
The future
VUB will definitely look to replicate this set-up with UCLV and the University of the Western Cape with more partners in the future. The current SIPs are in place for the next 5 years and renewal will depend on the annual reporting, and the evaluations of course. The main intention is to build up a limited number of very close partners. With the emphasis on interdisciplinarity and a track record of success, this SIP is confident of contributing to a better future for all.
[1] VLIR-UOS 20 Jaar: https://www.vliruos.be/en/news_events/20_years_of_impact%C2%A0sharing_m…