What will you learn in the bachelor's programme? 
As a business economist, the numbers are important. Not just accounting, maths and statistics, but also the analytical and empirical skills needed to assess risks, calculate the future value of assets or identify potential trends in time. We'll teach you to think and act as an economist, by studying what determines the trade balance of countries, how the money supply influences inflation, how governments regulate monopolies and why all this matters for business, learning about the importance of trust between buyers and sellers in second-hand markets and by understanding whether a company that is the only supplier in a market is eager to innovate.
You'll start with economic concepts, theories and models in the first year, digging deeper in years two and three, with intermediate and advanced courses on macroeconomics, microeconomics, public finance, and international monetary economics. But don't worry, you won't be overwhelmed by theory! Other courses put new concepts to the test. Marketing, management, corporate finance, business law, and strategic brand management are just some of the applied courses that will help you manage a firm or even set up your own company. And we don't stop there. People skills are so important. Especially if you dream of a career as a manager. So, you'll have plenty of opportunity to develop these and interact with other students.
Last but not least: there's language. In a globalised economy being proficient in English, the language of international business, is indispensable. You'll have that competitive advantage, since the Business Economics programme is taught entirely in English. And of course you'll have the chance to practice your language and other skills during 1 or 2 semesters abroad in the Erasmus international student exchange programme.
You'll share the classroom with your fellow students for the first two years. In the third year, you'll choose between one of two specialisations: International Business or Business & Technology. International Business offers advanced courses on business, economics and social entrepreneurship. Business & Technology adds technological entrepreneurship, advanced mathematics, and information technology to the mix.
Find out more about this programme 
The strength of our Business Economics programme
This programme perfectly combines business, economics and entrepreneurship, helping you developing solid foundations in micro- and macroeconomics, a strong background in mathematics and statistics, and skills in most functional fields of business.
International mindset thanks to our diverse and open university, and multicultural capital.
Benefit from Solvay Business School, as a renowned and global professional network generating opportunities for your future.
New from academic year 2023-2024 
If you start your first bachelor year in 2023-2024, the following new rules will apply:
You will be required to enroll for the standard track (usually 60 ECT credits) of the first bachelor year. It is possible to request an exception if:
You have already obtained a Bachelor's or Master's degree.
You are in a special situation and you are eligible for the Reflex-statute.
There are exceptional circumstances.
You will have to pass all courses of the first bachelor year (standard track) in two academic years. If, after two academic years, you do not pass your first year bachelor's programme, enrolment in the same programme will be refused at all universities in Flanders.
Still have questions? Do not hesitate to contact the study path supervisor of your desired programme.
Some VUB students talking about their study programme
Mariam Jandarova  | Alumna Business Economics
"There is always a nice atmosphere during classes, and the academic staff is extremely helpful. I like how open and approachable they are, both inside and outside the classroom. Whenever you have a question, they are there to help you out. I even had the pleasure to work together with the teaching team of my favourite class, which was a very educative and fun experience and which I am grateful for."
 
Martis Arthur Boumaza | Alumnus Business Economics 
"I honestly believe that VUB is one of the best places to study. The campus is quite small which makes it a very nice and cozy community, and if you want to get to the capital of Europe, you are only 15 minutes away with public transport. The students are very helpful to each other, when someone needs a helping hand, students are always open to helping each other during class."
 
Paul Kiza Amani | Alumnus Business Economics
"Being among international students means that what is normal to you is never guaranteed to be normal to the person next to you. There's an open-mindedness that you're immediately immersed in on day one."
After graduation
The broad set of business skills you'll develop in this programme mean you'll remain very versatile and will have access to a wide range of careers in many different sectors. Banking, insurance, audit or consulting, or perhaps public administration. A research department, or staff or operational function in a firm or organisation. Perhaps a sales manager or human resources manager, or a role in marketing. There's plenty to choose from.
Discover the many opportunities
Is this programme for you?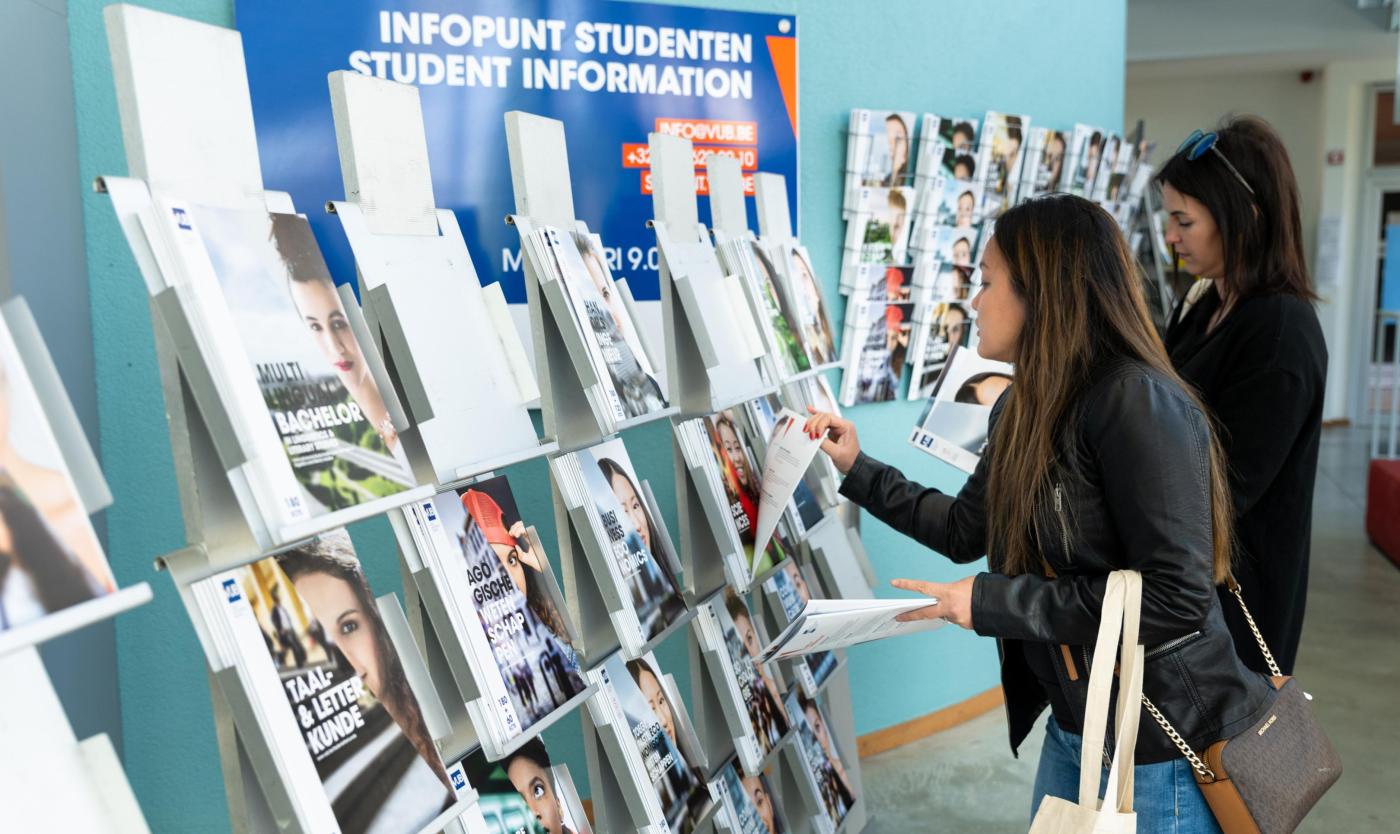 A better idea of the programme?
Would you like to know more about this VUB programme? Take part in our (online) study choice activities. Leaf through our brochure, chat with other students, put questions to our professors in an online info session, read our alumni testimonials or attend an open lecture or open day.