What do you learn in the master's programme? 
Studying linguistics and literature in the stimulating multicultural and multilingual environment of Brussels gives you the opportunity to discover the vast array of possibilities the city has to offer. Our international master's degree in Linguistics and Literary Studies is designed to prepare you for the globalised labour market where multilingualism, world citizenship and international expertise are becoming increasingly important.
We have created an English-taught master's programme in Linguistics and Literary Studies for all of our language and literature enthusiasts out there. Find out everything you need to know below!
Multilingual Master in Linguistics and Literary Studies
Have you completed a bachelor's programme in a related field, and are you eager to take that knowledge to the next level? Expand your expertise during our one-year Master of Arts programme (60 ECTS) in which you can choose to study one of our six specialised profiles, and in one language or two languages. 
9 languages 
Our Multilingual Master in Linguistics and Literary Studies gives you the opportunity to follow courses in up to nine different languages in the multilingual context of Brussels (Dutch, English, French, German, Italian, Spanish, Arabic, Chinese, and Russian). Note: It is only possible to study Arabic, Chinese and Russian in the profile 'Multilingual Mediation and Communication', while opting for Dutch and Italian is not possible for this profile.
6 profiles
You can choose to specialise in one of the following six profiles:
Intermediality: This profile offers an academic approach to the intermedial and/or intertextual relationship between literature and other art forms such as theatre, dance, opera, visual arts or film. Interactive courses give you the opportunity to gain profound insights into the dynamic interconnectedness of different genres.
Linguistics: We conduct an in-depth exploration of language with courses in up to six languages. You will cover a broad range of linguistic topics, such as theoretical linguistics, (historical) sociolinguistics and corpus linguistics.
Literary Studies: You will explore current literary topics, such as literary theory, urban literature, postcolonial literature, the intermedial relationship between literature and other art forms and aspects of literary translation.
Multilingualism and Foreign Language Acquisition: You will explore multilingualism from both social and cognitive perspectives, learn about the role of instructed versus uninstructed foreign language learning and put the theory into practice during an internship.
Multilingual Mediation and Communication: Thanks to a well-balanced set of advanced academic and professionally-oriented courses, you will acquire the necessary knowledge and skills to study and critically reflect on challenges pertaining to translation, interpreting and communication in our multilingual society. Practical training and a compulsory internship provide the opportunity for hands-on experience. Please note that for this profile, you always need to study in two languages, one of which is English. 
Psycholinguistics and Neurolinguistics: If you are fascinated by the neurological and psychological aspects of language, this profile is perfect for you. Language impairments caused by brain damage and the cognitive aspects of linguistics are only a few examples of topics you will examine when choosing this profile.
If you want to start studying the Multilingual Master, a previous bachelor's degree is required. 
Find out more about admission and enrolment   Find out more about the programme structure 
The strengths of our master's programme
By studying our Multilingual Master, you will be part of the largest international student community in Belgium, home to students coming from around the globe.
You will study on our urban yet green campus in the multilingual heart of Europe.
We offer an effective high-quality education with a well-coordinated balance between general and language-specific courses.
Our innovative approach will boost your learning through team, block and blended teaching.
Student reviews of the course
Khaola Al Rifai | Graduate of the Multilingual Master in Linguistics and Literary Studies
"To my dear professors, supervisors, VUB staff and alumni: my gratitude towards you is unspeakable. I can look across the auditorium and see so many faces who have had a huge impact on me. You made the VUB vision of humanism a daily practice, with your open-minded attitude and kindness".
Katarina Dordevic | Graduate of the Multilingual Master in Linguistics and Literary Studies
"Being a student in the Multilingual Master is truly more than going to lectures and studying, it's a unique and wonderful experience. In addition to exploring the field of linguistics with the help of experts, I got the chance to meet a lot of wonderful people from all over the world who have changed my life for the better".
After graduation
After you obtain your master's degree in Linguistics and Literary Studies, many doors will open to different career paths and other postgraduate programmes. Perhaps you will start your career working in cultural institutions, the civil service, a multinational company, or in fields as diverse as communication, education, research, IT, translation, journalism, tourism, politics, publishing, and various other sectors that seek polyglots such as you!
Our alumni take the stage
Wondering if this programme fits your interests? What if we told you that we have personal reviews from our brand-new graduates themselves! Get inspired by our own alumni below.
Is this programme for you?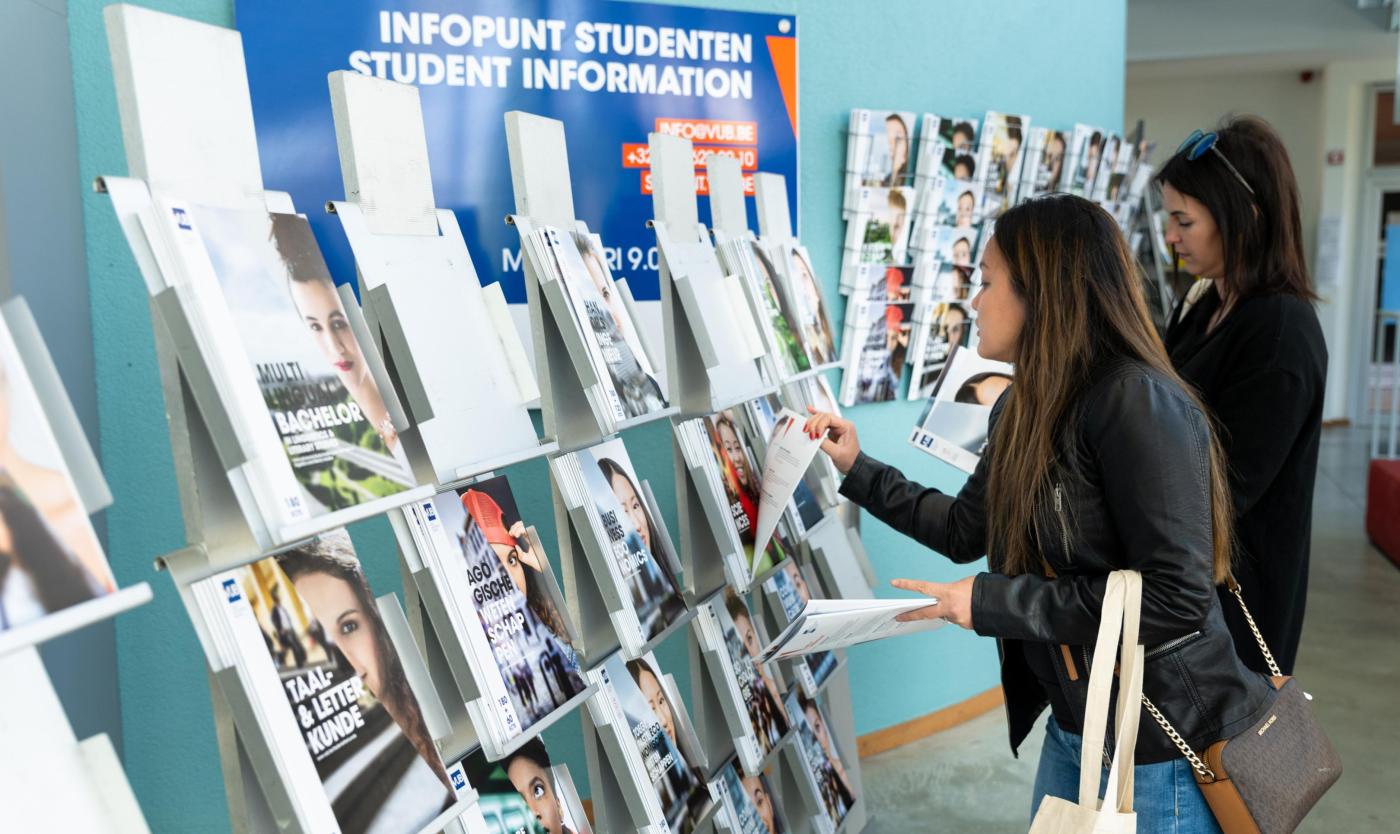 A better idea of the programme?
Would you like to know more about this VUB programme? Take part in our (online) study choice activities. Browse through our brochure, chat with other students, ask questions to our professors in an online info session, read our alumni testimonials or attend an open lecture or info day.