What do you learn in the master's programme? 
Studying linguistics and literature in the multicultural and multilingual environment of Brussels gives you the opportunity to discover the vast array of possibilities the city has to offer. Our international master's degree in Linguistics and Literary Studies is designed to prepare you for the globalised labour market where multilingualism and international expertise are becoming increasingly important.
We have created an English-taught master's programme in Linguistics and Literary Studies for all our language and literature enthusiasts out there. Find out everything you need to know below!
Find out more about your programme of interest
Multilingual Master in Linguistics and Literary Studies
Have you completed a bachelor's programme in a related field, and are you eager to take that knowledge to the next level? Expand your expertise during our one-year Master of Arts programme (60 ECTS) in which you can choose to study one of our six profiles (study tracks), and in one language or two languages. 
6 profiles
You can choose to specialise in one of the following six profiles:
Intermediality: This profile offers an academic approach to the intermedial and/or intertextual relationship between literature and other art forms such as theatre, dance, opera, visual arts or film. Interactive courses give you the opportunity to gain profound insights into the dynamic interconnectedness of different genres.
Linguistics: We conduct an in-depth exploration of language, covering a broad range of linguistic topics, such as theoretical linguistics, (historical) sociolinguistics and corpus linguistics.
Literary Studies: You will explore current literary topics, such as literary theory, urban literature, postcolonial literature, the intermedial relationship between literature and other art forms and aspects of literary translation.
Multilingualism and Foreign Language Acquisition: You will explore multilingualism from both social and cognitive perspectives, learn about the role of instructed versus uninstructed foreign language learning and put the theory into practice during an internship.
Multilingual Mediation and Communication: Thanks to a well-balanced set of advanced academic and professionally-oriented courses, you will acquire the necessary knowledge and skills to study and critically reflect on challenges pertaining to translation, interpreting and communication in our multilingual society. Practical training and a compulsory internship provide the opportunity for hands-on experience. Please note that for this profile, you always need to study in two languages, one of which is English. 
Psycholinguistics and Neurolinguistics: If you are fascinated by the neurological and psychological aspects of language, this profile is perfect for you. Language impairments caused by brain damage and the cognitive aspects of linguistics are only a few examples of topics you will examine when choosing this profile.
9 languages 
Our Multilingual Master in Linguistics and Literary Studies gives you the opportunity to follow courses in the multilingual context of Brussels in up to two languages of the nine we offer. We do not offer language proficiency courses; you are expected to be proficient in your chosen language(s) to follow the courses.
See below for profile-specific language options.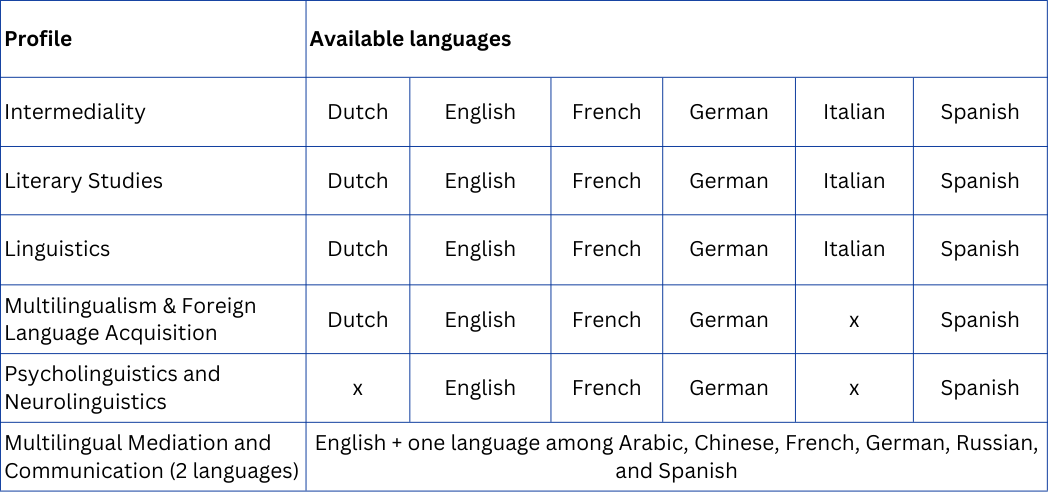 Find out more about admission and enrolment   Find out more about the programme structure 
MA Dual Degree – MA Linguistics and Literary Studies (VUB) 🇧🇪 / MA European Studies (University of Guelph) 🇨🇦
Broaden your horizon in a two-year dual degree that combines the MA in Linguistics and Literary Studies at Vrije Universiteit Brussel and the MA in European Studies at the University of Guelph (Canada). The dual degree brings together expertise in European culture, history, contemporary politics and society, linguistics and literary studies and multilingual mediation and communication with nine languages to choose from and six areas of specialisation. Students will spend one year at each university and will earn an MA from both institutions.
This international double degree opens doors to career opportunities in e.g. government ministries, the civil service, international organisations, teaching, the cultural sector, interpreting services, international relations, academia (Ph.D.).
The strengths of our master's programme
By studying our Multilingual Master, you will be part of the largest international student community in Belgium.
You will study on our urban, green campus in the multilingual heart of Europe.
We offer an effective high-quality education with a well-coordinated balance between general and language-specific courses.
Our innovative approach will boost your learning through team, block and blended teaching.
Why choose the Multilingual Master?
After graduation
After you obtain your master's degree in Linguistics and Literary Studies, many doors will open to different career paths and other postgraduate programmes. Perhaps you will start your career working in cultural institutions, the civil service, a multinational company, or in fields as diverse as communication, education, research, IT, translation, journalism, tourism, politics, publishing, and various other sectors that seek polyglots such as you!
Our alumni take the stage
Wondering if this programme fits your interests? What if we told you that we have personal reviews from our brand-new graduates themselves! Get inspired by our own alumni below.
Is this programme for you?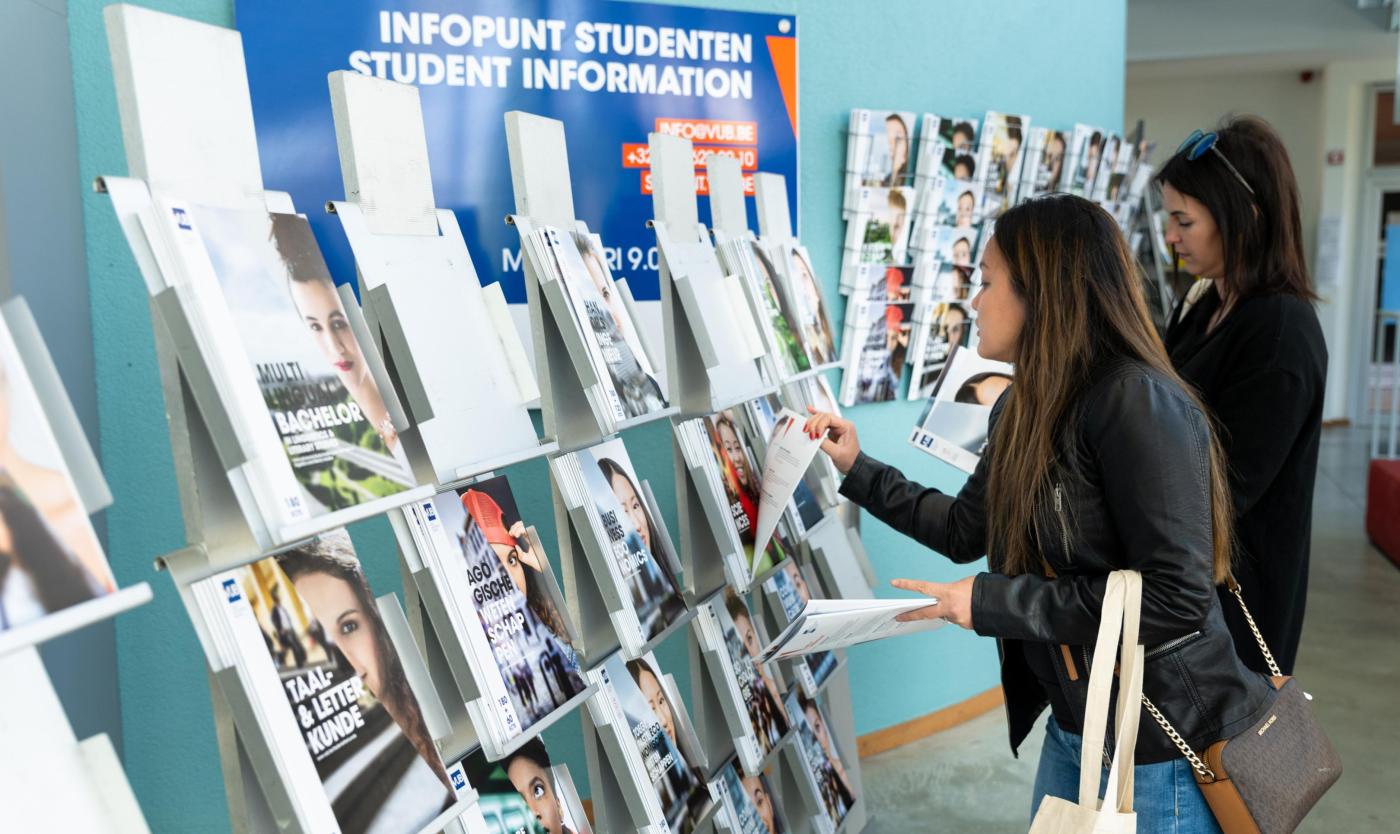 A better idea of the programme?
Would you like to know more about this VUB programme? Take part in our (online) activities. Browse through our brochure, chat with other students, ask questions to our professors in an online info session, read our alumni testimonials or attend an open lecture or info day.
Follow us for latest updates
For all questions related to the programme, please contact us via email muma@vub.be.
Get to know us!
Join the Student Group     Meet our professors     Who is Who?
Programme director: Prof. dr. Janine Hauthal
Coordinator of internationalisation: Dr. Catharina Peersman 
Pedagogical assistants: Tara Brusselaers, Anastasia Degtyareva, Ngoc Dinh
Student representatives 2023-2024: Madeleine Kabeary Corley, Ikram Hadhoudi, Nada Lamri, Nadia Ramdhanie, Emma Jane Runacres.
Research centres
The Department of Linguistics and Literary Studies (LIST) hosts two research centres that are specialised in studies in the fields of linguistics and literary studies. You can follow their websites for latest research activities: 
Brussels Centre for Language Studies (BCLS)