After graduation
If you want a competitive edge in the job market, this Master in Management is the answer! It will open doors in marketing, finance, accounting, human resources, strategy, IT and logistics… in fact all functional areas found in any private or public company. Including general management positions. Are you already employed? Then strengthen your position and create opportunities for growth within your field with this degree. Keen to start your own business? This programme will also arm all budding entrepreneurs with the required knowledge and skills.
What have you learned?
You'll acquire the know-how and foundations needed for modern management positions in a diverse range of industries, institutions and organisations.
Professors from academia and industry will teach you a range of transferable skills including:
Analysis
Communication
Practicality
Intellectual creativity
Triple bottom line thinking
Ethics and cross-cultural awareness.
Special attention is paid to concepts such as sustainability, economic intuition and vision.
Learning objectives of the Master in Management
Independently analyse and interpret business problems using scientific research methods.
Formulate solutions to problems faced by organisations operating in complex and dynamic contexts.
Present analyses of business-economic problems and solutions, both orally and in writing.
Contribute to the formulation and implementation of business strategies by adopting a critical, reflective attitude.
Motivate other stakeholders to contribute constructively to the formulation and implementation of business strategies, regardless of their hierarchical positions.
Apply theoretical knowledge about various functional domains (such as management, marketing, HRM, finance, and accounting), taking into account all the legal conditions and regulations.
Adopt a proactive attitude by anticipating market changes and organisational problems, thereby using appropriate strategies.
Keep up-to-date with developments in the broad field of management / business administration by reading the relevant literature.
Further study
Keen to continue your academic career? You can apply for a PhD position at VUB! All you need is a promoter, research subject and sufficient funding. Are you up for the challenge? Or look into our Postgraduates and Microcredentials, short programmes that might meet your interest.
What professions will it allow you to enter?
Our alumni tell what jobs this diploma leads to...
Ewa Mlynarczyk | Web content manager
"Throughout the programme I met students from all over the world. Studying in a multi-cultural environment was an aspect of the programme that I enjoyed very much. I highly recommend the programme to all prospective students who wish to gain the knowledge and understanding of the managerial environment. I completed the Master in Management along with the preparatory programme in one year, graduating in 2020. Completing these two programmes gave me both basic and in-depth knowledge of business and managerial environments. Studying finance, economy, accounting, supply chain management along with marketing, corporate strategy and human resource management provided me with practical knowledge and built my confidence as a manager already working in the field. It also inspired me to further expand my horizons and grow in the business environment."
 
Lin Jiang | Agile Product owner
"As an international student working full time in IT, I was looking for an additional master's programme to strengthen my knowledge of business and management. I would like to recommend this programme because first, the curriculum consists of courses covering all aspects of management such as marketing, supply chain, IT, strategy, etc, and you can choose thesis topics from any of those fields. Second, all the classes are offered in English and are held after working hours, which enables international students to combine both work and study. Third, the programme is quite flexible, so you can choose to spread the courses over a number of years to suit your availability. I am sure this challenging programme will boost your career opportunities and expand your networks."
 
Marcos Plaza Garcia | Engineer at Toyota Motor Europe
"The lectures take place during the evening, making it compatible with a full-time job (even if it is very challenging). As an engineer you take decisions that may have a big impact on the business and the company. In order to find the right combination between the technical and business side, I was looking to expand my knowledge in business while continuing my career. The Master in Management touches upon the main business pillars of a company: strategy, marketing, human resources, IT, supply chain or finance, always from a managerial perspective, which makes it especially attractive, allowing you to view different ways of approaching decisions. The programme is designed for working and international students, so the practical examples focus on different industries and cultures, from the past to actual businesses, giving added value and promoting out-of-the-box thinking."
Are you aware that VUB sometimes looks for management positions?
That's right! You can build an exciting and meaningful career as a specialist in all kinds of management positions here at your alma mater. As a large organisation we look for very diverse profiles.
Join our community of former students
On graduation from VUB you become part of a unique network of 75,000 former students (known as alumni) who are ready to build a better future. We exchange as many experiences, ideas and other forms of knowledge as possible to stand stronger together in our jobs, our lives and the world outside.
So, besides strengthening your position on the labour market, a VUB diploma gives you a network you can build on to realise your professional ambitions and make a difference in the world. Do you need more reasons? We list more below for you.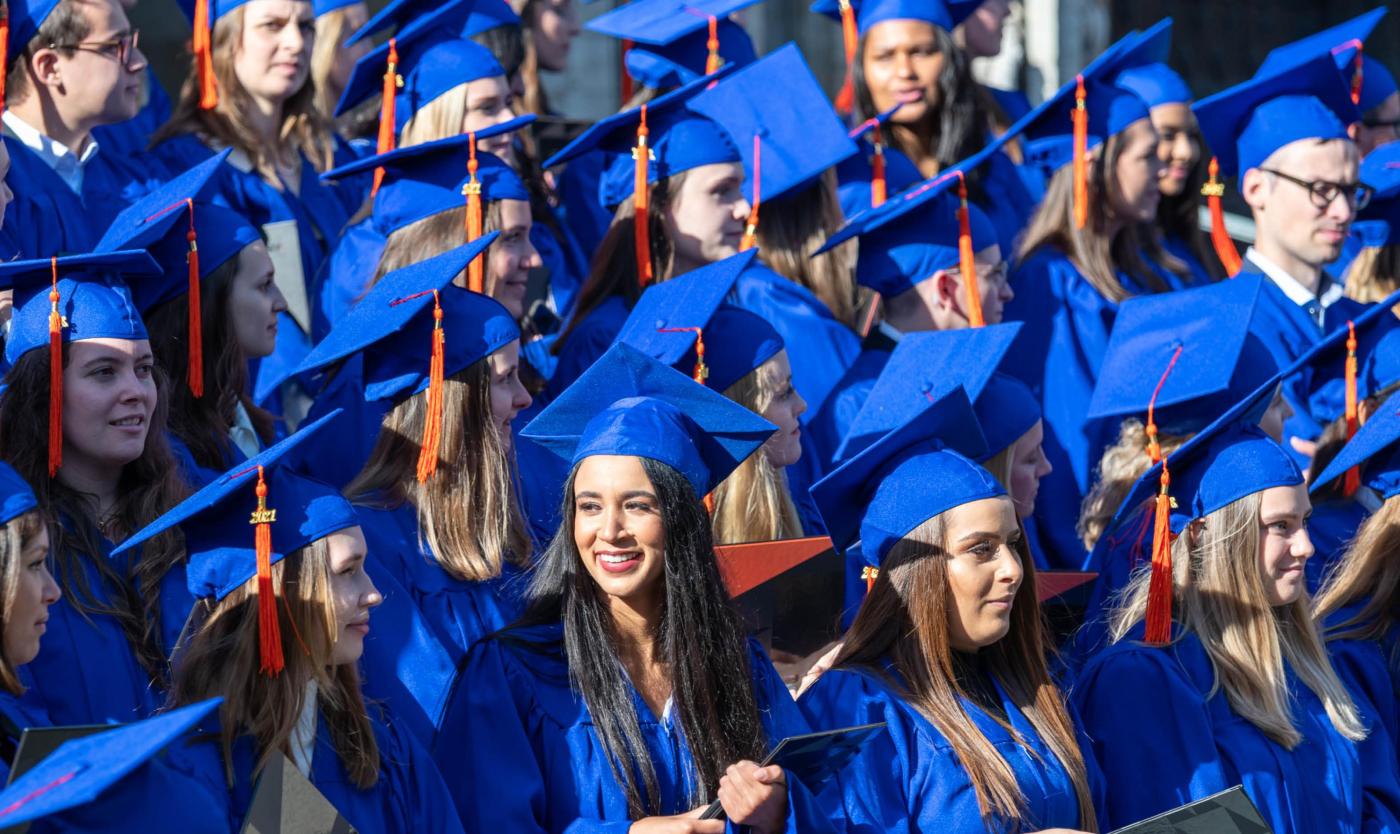 ... it's worth it!
Benefits on and off campus - A BasicFit annual subscription at half the price, student rates in the Resto... : being a former student pays off with a digital alumni pass.
Help with job applications - It is sometimes hard for young alumni to find their way on the labour market. We help you get off to a flying start.
Networking - Join your faculty or study-programme alumni association and keep up to date with the latest networking events and developments in your field.
Career inspiration - Are you looking for a job that matches your passions? Read the career stories and tips of former students and discover the possibilities per diploma.
Our continuing education - Society and the labour market are constantly on the move. Our continuing education courses keep your knowledge and skills relevant. For a lifetime.