Higher education: types and levels 
Anyone who wants to continue their studies after secondary school in Flanders can choose from a graduate programme, professional bachelor's or academic bachelor's degree. 
Graduate programme
A graduate programme prepares you for a specific profession. A good example is the Nursing graduate programme. You follow this course of education at a college and have a programme of 90 to 120 study points.   
Professional bachelor's
A professional bachelor's also focuses on a specific job, and is offered by a college or school of arts. However, as this course involves at least 180 study points, it will take you at least 3 years to graduate. Good examples are the bachelor's in Hotel Management or Journalism. 
Academic bachelor's
An academic bachelor's is taken at a university. This type of course focuses on theoretical frameworks rather than practical experience. Research is another important aspect. As is the case with a professional bachelor's, you must study full-time for (at least) 3 academic years to obtain your degree. The next logical step is to follow the corresponding master's programme.  
Already have a degree and would like to keep studying? Certainly!  
After a graduate programme you follow a supplementary path to switch to a professional bachelor's programme.

After a professional bachelor's programme, you follow a switch programme if you wish to go on to an academic master's. Most switch programmes count 45 to 90 study points and focus on the subject matter that you didn't encounter on the professional bachelor's.  

If you have completed an academic master's, but wish to choose another master's programme, you can go on by following a preparatory programme. In that case you cover the subject matter you missed on your first course.  

On a master's programme, you build on the subject matter in your academic bachelor's, your switch programme or your preparatory programme. The theoretical and research component is still very important. At the end of your master's course, you will write a master's thesis. Most master's theses account for 60 to 120 study points and last 1 to 2 academic years.  
Can't get enough of studying?
Then opt for a bachelor after bachelor's, a master-after-master's, a postgraduate or a doctorate.   
After your professional bachelor's course, you can obtain an extra bachelor's degree on a bachelor-after-bachelor's, also referred to as a banaba for short.  

A master-after-master's (manama) naturally follows a master's programme. An example of this might be a Notary master's after a master's in Law.  

With a postgraduate or permanent training course, you can gain extra specialisations in your sector on a short study path.  

Want to conduct further research on a particular subject in your domain? Then put yourself forward as a candidate for a doctorate. This is the highest level you can achieve.  

Would you like to work in education? Then opt for an academic bachelor's or master's. This type of academic education at a high school or university is the ideal preparation for giving lessons in a specific subject.  
Types of education
Various lesson formats are used in higher education. A lesson format is the way in which a lecturer approaches his lessons. This can vary according to the objectives for a specific course component. Because any educational format has a different dynamic and creates various opportunities, a variety of lesson formats are sometimes used.  
Lecture
In a lecture, the lecturer provides an oral explanation of the subject matter. So he or she communicates information to a large group of students. At the lecture you listen quietly to the lecturer's explanation and take notes. Your attendance at a lecture is not generally compulsory, and it is difficult to check.  
Lectures are mostly given in large auditoriums or smaller classrooms. You can also sometimes follow lectures online, which means that you don't have to travel to the campus.  
Seminar
In a seminar you work on assignments in small groups, under the guidance of a lecturer or assistant. Another name for a seminar is an exercise session. You work on the subject matter in the lecture, make adaptations and do exercises. Attendance is often compulsory.  
Examples are: reading and interpreting texts, elaborating on a lesson subject, practising research techniques, doing maths exercises, etc. 
Practicals
Practicals are practical exercises, usually under the guidance of an assistant or a member of the didactic team. For most course components, attendance of practicals is compulsory.  
If the sessions are in the lab, we use the term lab sessions. If the exercises in a practical take place outside the classroom location, we use the term field work.  
Group work
If you take part in group work, you work with other students on a joint end product: an assignment, a paper, a report, a presentation, etc. Group work can take place using various lesson formats. Working in a group is enjoyable, but not always easy as you have to divide the tasks fairly and always seek suitable moments for consultation.   
Internship
You can sample your subject in practice via an internship. In other words, as an intern you enjoy an introduction to your future work situation. You can observe how it all works in a real company and translate the theory from your lessons into specific work situations. Not every course has an internship option on the programme. The duration can also vary from course to course. Some students do an internship as early as their second bachelor year, others wait until the final year and others still wait until their master's year. 
Guided independent study
With guided independent study, the assumption is that you learn the subject matter on an independent basis. Naturally, you will be guided in this by means of synthesis or question and answer sessions, via email with the lecturer or assistant, with additional exercises, via an electronic learning environment, etc.  
Bachelor's and Master's thesis
You write your bachelor's thesis at the end of your third bachelor year, as the final assignment on your course. Not every course involves a bachelor's thesis. A master's thesis is required at the end of a master's course. As a student, you are required to independently design a qualitative or quantitative research study and to combine it with a study of the literature. On some programmes you work on this with a fellow student. The result of your master's thesis is a written report, sometimes combined with an oral presentation or defence.  
The bachelor's and master's theses examine the extent to which you have developed a research outlook and critical mind. Naturally, you can count on support from a promoter or co-promoter in the process. In choosing your bachelor's or master's thesis, it's best to find out about the possible subjects in advance, the available promoter and the type of research you will have to conduct. 
Blended learning
Blended learning is the combination of contact teaching and online learning activities. Through this, traditional classes are enriched with subject matter in a digital learning environment. As a student, you can use them to work on your own initiative. This approach gives you scope to learn more independently and interactively, and allows lecturers to reduce the number of lectures and to vary their lesson formats. We always seek the optimum mix of online lessons and physical contact lessons for each course. 
Forms of assessment
In higher education, there are various ways that you can be assessed. A lecturer will decide which form of assessment he or she will apply on the basis of the objectives of his or her course component.  In any event, you will be assessed at different times in the year. Exams are scheduled for the end of each semester. They usually focus on the subject matter across the entire course component. You may also take interim exams throughout the year, or be evaluated on the tasks that you have completed.   
Written and oral exam questions 
In an oral exam, you give your answer orally, with or without written preparation. After your explanation the examiner may ask you additional questions to allow you answer in greater depth or correct any answers that you may have gotten wrong.  
In a written exam you are given questions on paper, and you write your answers down.  
Closed and open book exams 
In an open book exam you can make use of course material. But do not forget: this type of exam is definitely not easier. You may not have to learn the subject matter by heart, but you need to understand it extremely well, apply it and find information quickly. This calls for a different sort of preparation.  
In a classic – closed book – exam you are not permitted to use course material or take it into the exam room.   
Open questions and closed questions 
Your teacher may set open or closed questions in an exam. Open questions require a long, detailed answer - similar to writing an essay. In some cases the teacher also expects you to give your own opinion on certain (current) phenomena (also called an 'essay').   
You may also be faced with a problem: a practical application of the subject matter. That's why it is important to know and fully understand the theoretical concepts that can help you to solve problems (such as formulae). The perfect preparation for such questions is to create your own exercises and solve problems. 
In a multiple-choice exam you do not need to write an answer. You simply select the correct answer from the alternatives. These can be true or false questions, or questions with 3, 4 or more potential answers. Even though several appear possible, there is always only 1 correct answer. So listen to the instructions very closely Also check how the points are allocated and whether there is a guess correction: i.e. an extra points deduction if you select the wrong answer.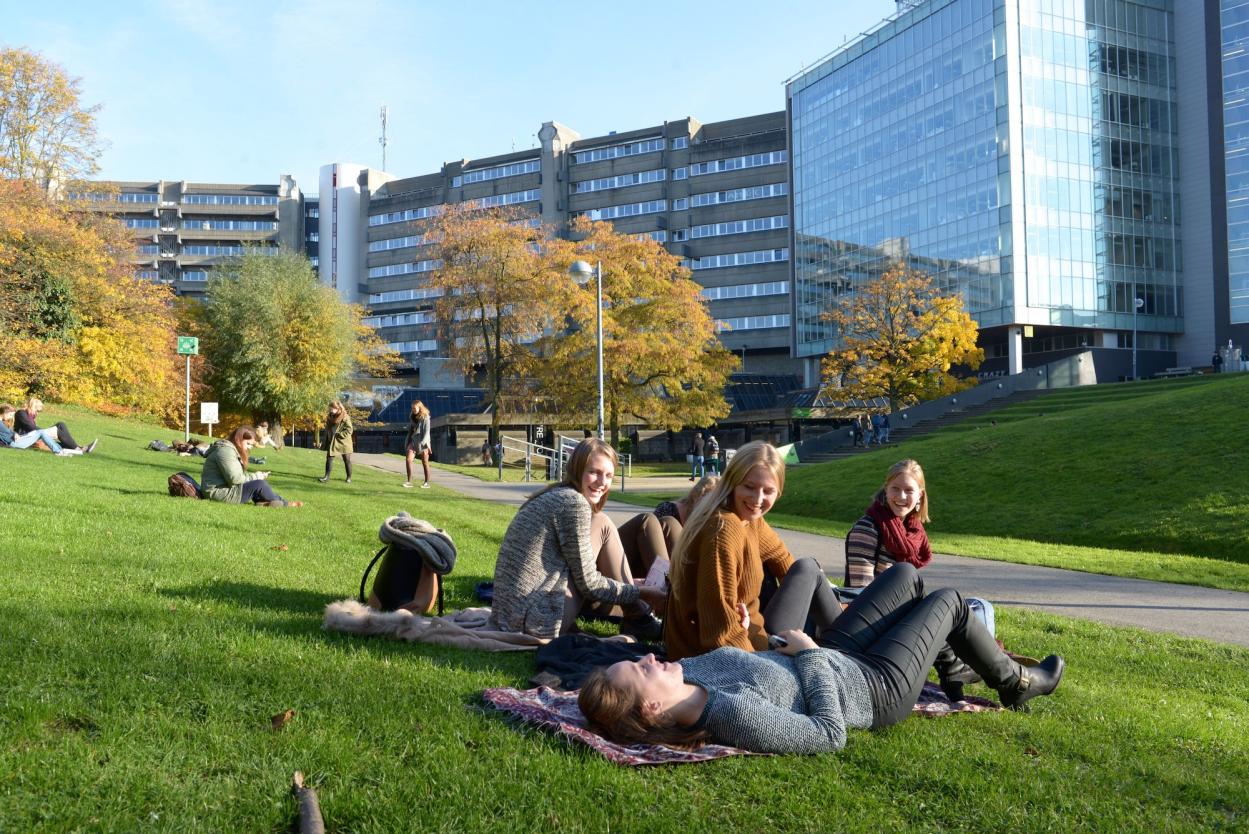 What does an academic year look like? 
An academic year at VUB is a little different to one in secondary education. For example, the first semester begins in the last week of September, so you have a longer summer vacation (if you don't have resits, that is).  
The 2 semesters have 13 weeks of lessons. They are followed by 1 or 2 study weeks and 3 weeks of exams, concluded by a lesson-free week in February or the summer break in July. The winter and spring breaks are just the same as you are used to now. The resits take place in September, spread over 3 weeks.  
View the academic calendar and all the important dates, periods of leave and public holidays via this link.