Manage you personal information
In the Student SelfService, you can view your personal data and also change some data yourself. To view your data, navigate via the main menu to the tab 'Profile'.
A number of data, such as your name, date of birth, nationality and your home address, cannot be modified. If these data are incorrect, you can contact the Student Administration.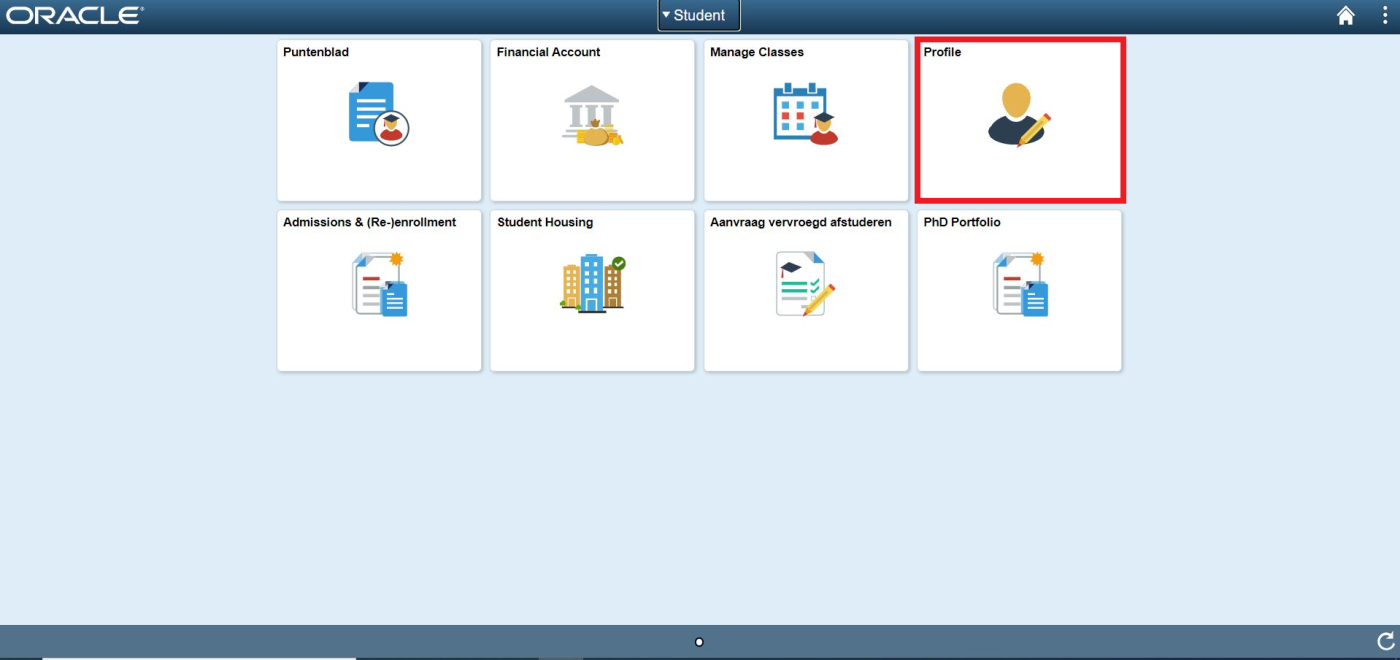 Edit personal data
You don't always have to contact Student Administration to edit your personal information, you can modify some data yourself. As explained above, to view your data, you navigate in the Student SelfService, via the main menu to the tab 'Profile'. Through the menu on the left, you can check and edit some of your personal information.
Addresses
You cannot change your home address yourself. Please contact the Student Administration for this via e-mail. Add an extract from your eID or proof of domicile address of the municipality to the email.
In addition to your home address, you can add another address (e.g. your student's apartment address) to your data. To add an address, click the tab 'Addresses' and then add a mailing address. You can choose the date from which the new address will apply. Then click 'Save'. You will receive postal mail on this address.
Telephone numbers
You can add a telephone number by clicking 'Contact Details'. You can also change a telephone number if it is incorrect, or delete it. 
E-mail addresses
Add your personal e-mail address to your profile!
That way we can contact you after your enrolment has ended. Students who graduate or quit their studies will have access to their VUB account until 1 November after the end of their enrolment.
We need your personal e-mail address to notify you when you can pick up your diploma.
You can add a personal e-mail address by clicking 'Contact Details'. You can edit an e-mail address by directly clicking on it. You can also delete an e-mail address added.
Note: VUB correspondence will always be sent to your VUB e-mail as long as your enrolment is active. You can easily set a "forward" so that all your university e-mail is automatically forwarded to another address (instructions).
Contacts in case of emergency
On this tab, you can enter the details of one or more people who can be contacted in case of emergency. To add a new person, click '+' at the top. You can also delete a contact at any time. To do so, click the contact you want to delete and click 'delete' at the bottom of the opened window.
Language preference
Besides your personal details, you can also set your preferred language. This will be taken into account as far as possible when sending communications. However, there may be anomalies. You can choose Dutch or English.
Click 'Campus Preferences'. Select the desired language (English or Dutch) and press 'save'.