Transcript of records
After each exam period, your results will be available in the Student SelfService.
The January exam results are announced on the first day of class of the second semester.
The June and second session exam results are announced after deliberations by the examination board.
In the Student SelfService, you get an individual transcript of records, containing your grades and proclamation codes. It's important to not only check your grades, but also your proclamation code. It provides useful information on how you can proceed with your studies.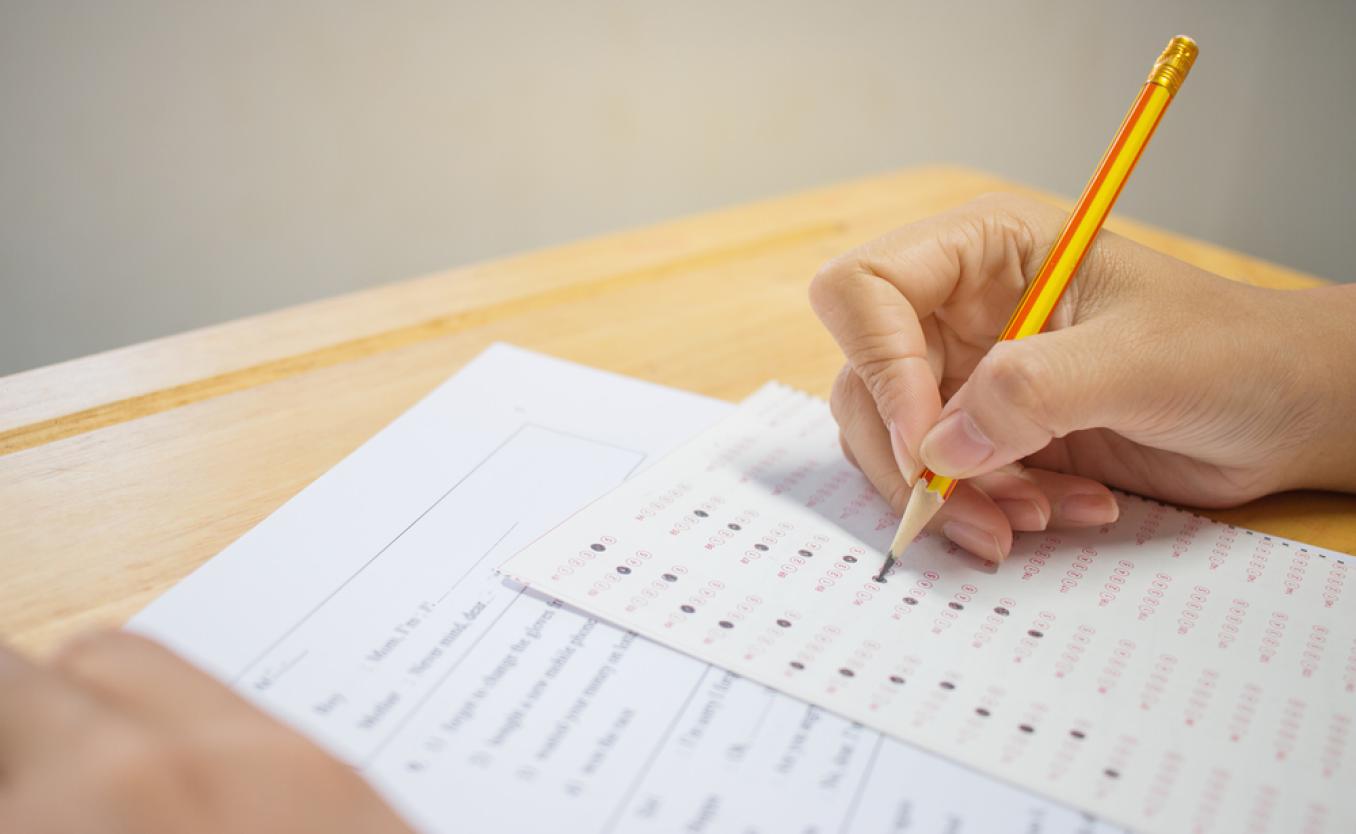 Availability transcript of records
A transcript of records will only be available once the Examination Board has been convened, and has discussed your examination results of the examination period. Your official transcript, including the examination results of each course as well as the proclamation code, can then be downloaded via the Student SelfService.
When exactly the examination board gathers differs from faculty to faculty. In January they only gather for students graduating early after the first semester.
Take note
Guest students receive their results from their home university. They can however, consult their VUB-results in the Student SelfService.
Students with a credit or exam contract don't receive a transcript of records. They can only consult their grades in the Student SelfService.
Grades
An examination mark is assigned to each course. Your grade is expressed as a whole number (form 0 to 20) and is established according to the calculation method described in the course outline or Canvas. You obtain a credit certificate and pass a course when you have obtained a final grade of at least 10/20
Sometimes it comes down to a decimal!
Exam results are rounded to a round number, never using decimals. All grades and averages are rounded as follows:
rounded down if the decimal is < (less than) 0,5 (9,4/20 will become 9/20)
rounded up if the decimal is ≥ (more than or equal to) 0,5 (9,5/20 will be 10/20)
 
The rounding will be applied to the exam result only. This will not be done for the possible separate parts that will lead to the final exam result.
An insufficiency or failed course?
Failed courses can be tolerated in some cases. Make sure to check the deliberation conditions and regulations!
Level of distinction
From passing with merit to the greatest distinction
Based on the average final result of a student who passed successfully, an academic level of distinction will be awarded.
How to calculate your average result?
To calculate the average result you multiply the credits of a certain course unit with your score. Add those together, and then divide this number by the total amount of credits you have finished in your programme.
Level of distinction 
The following academic levels of distinction shall be awarded:
Passed with merit: the average final result is less than 68%
Passed with distinction: the average final result is 68% or higher
Passed with great distinction: the average final result is 77% or higher
Passed with the greatest distinction: the average final result is 85% or higher
 
Upon completion of a bridging or preparatory programme students receive a specific certificate, not a degree or diploma. These students therefore cannot obtain an academic level of distinction.
Attention! 
Attention! An academic level of distinction can only be awarded if a minimum number of credits has been obtained within the programme at the VUB: 
At least 60 credits for a bachelor's programme.
At least half of the total study load for a master's programme.
Consult and download transcript of records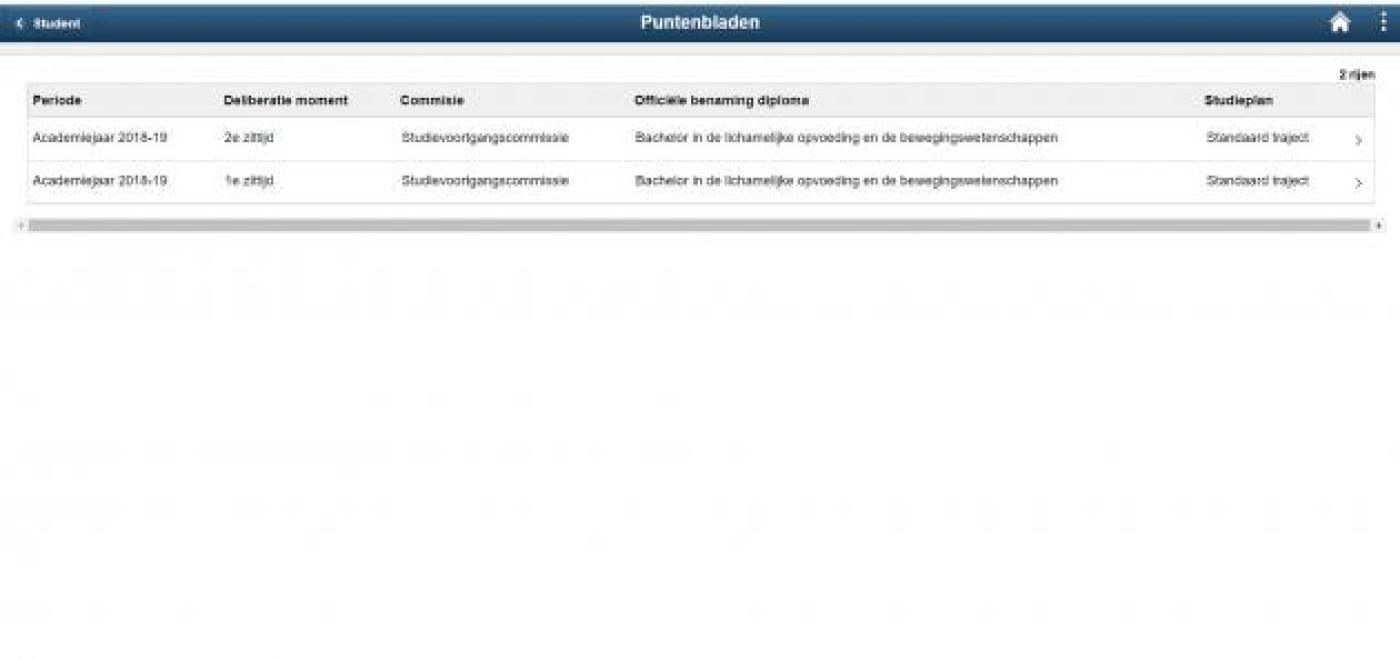 Step 2: You get an overview of all your transcripts of records.
 
Only validated transcripts (after deliberation) are shown. It is possible that more than one transcript of records is listed for one examination period, i.e when more than one committee or program is registered.
Click on the transcript you want to check.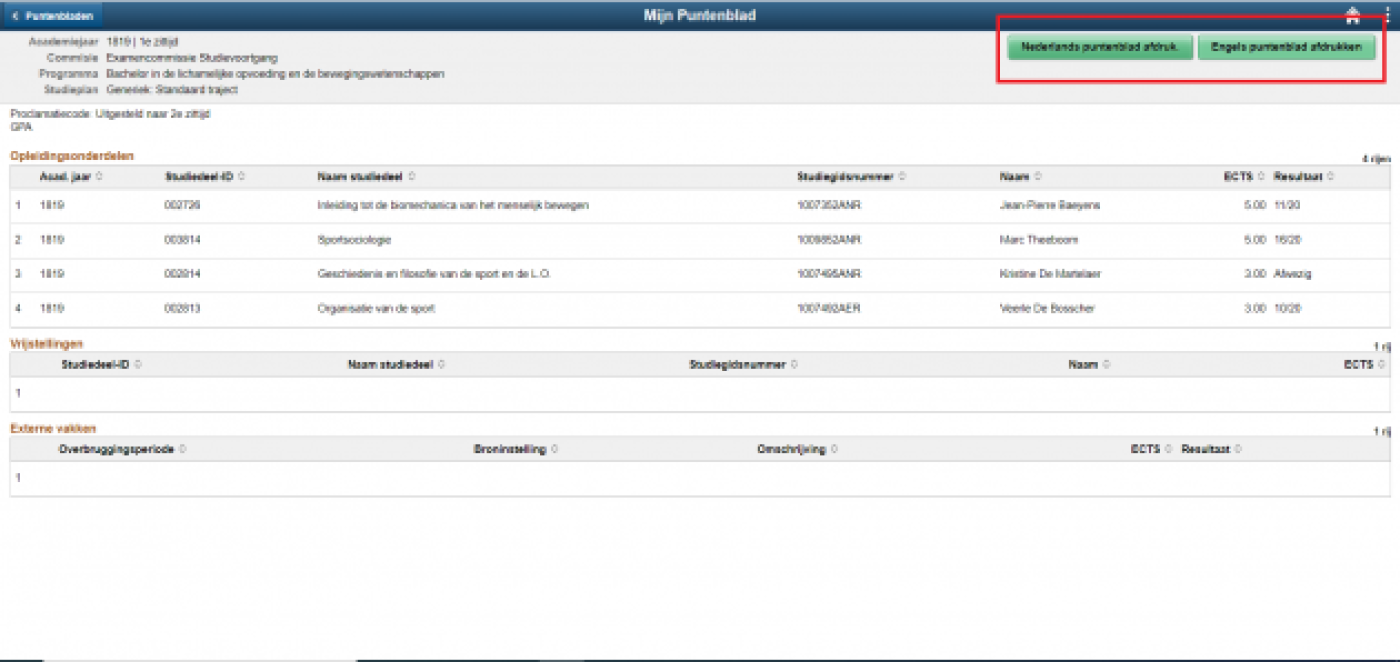 Step 3: You see an overview of your records for the selected period.
 
Exemptions and external courses are also included in this list. You can also download your transcript. Click on the buttons in the top right corner, you can choose for English or Dutch.
Step 2: Click on the tab 'View grades' in the menu on the left.
 
Select the academic year to see your grades.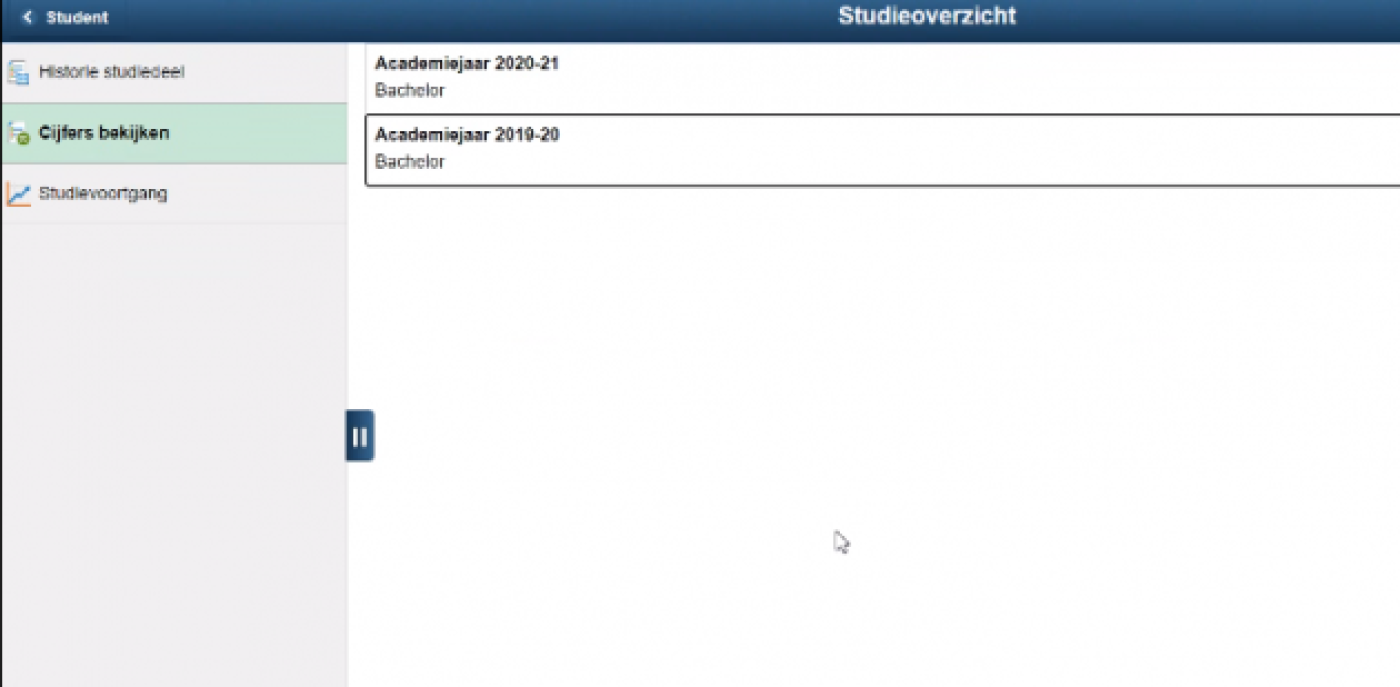 Step 3: You can now check your grade for each course. 
 
Attention! If you're checking your grades via smartphone, you might need to click further to see the full name of the course. 

Consult partial grades
A partial grade is a result you get for a certain part of a course, for example oral and written exams. Do you want to consult your assignment results? Follow all the steps explained on this page. 

Step 2: Click on 'View My Assignments' in the menu on the left.
 

Step 3: Select the programme or academic year for which you want to see the grades.

Step 4: Select the course for which you want to see the grades.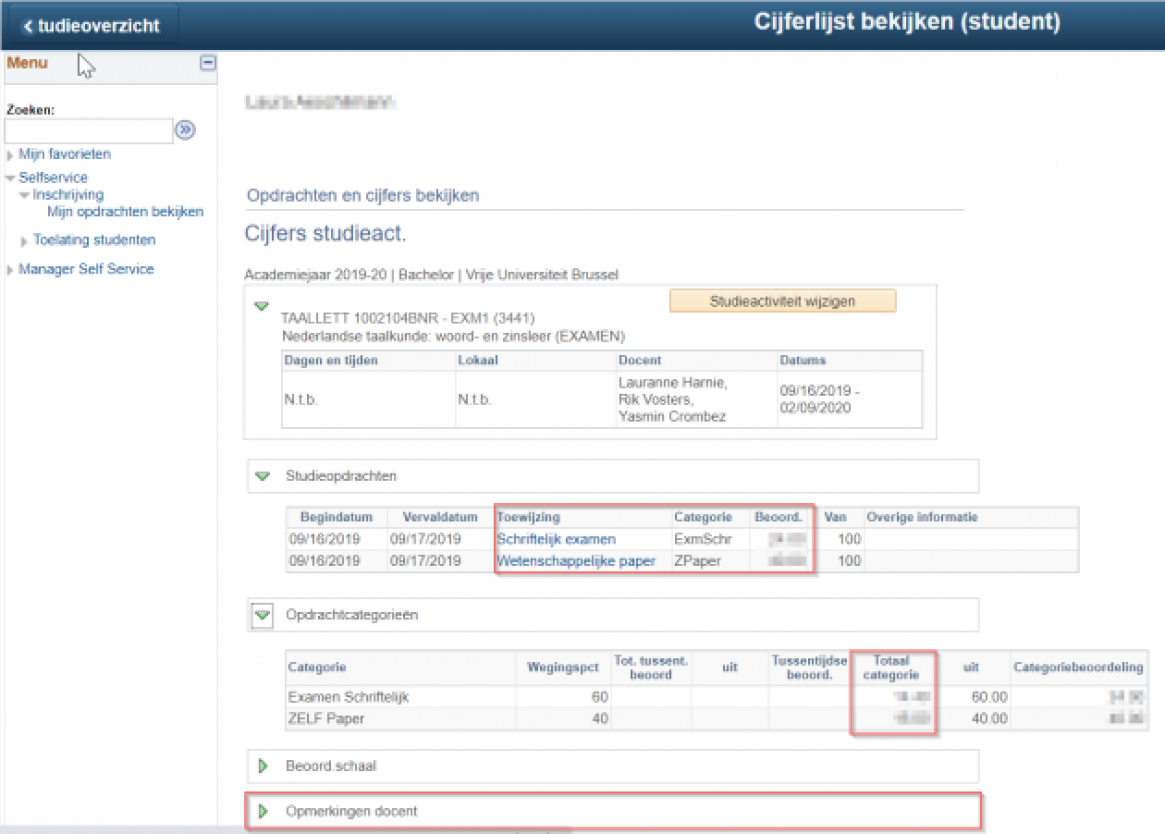 Step 5: You can check your partial grades here.
 
Comments entered by the teacher can also be seen in this window.