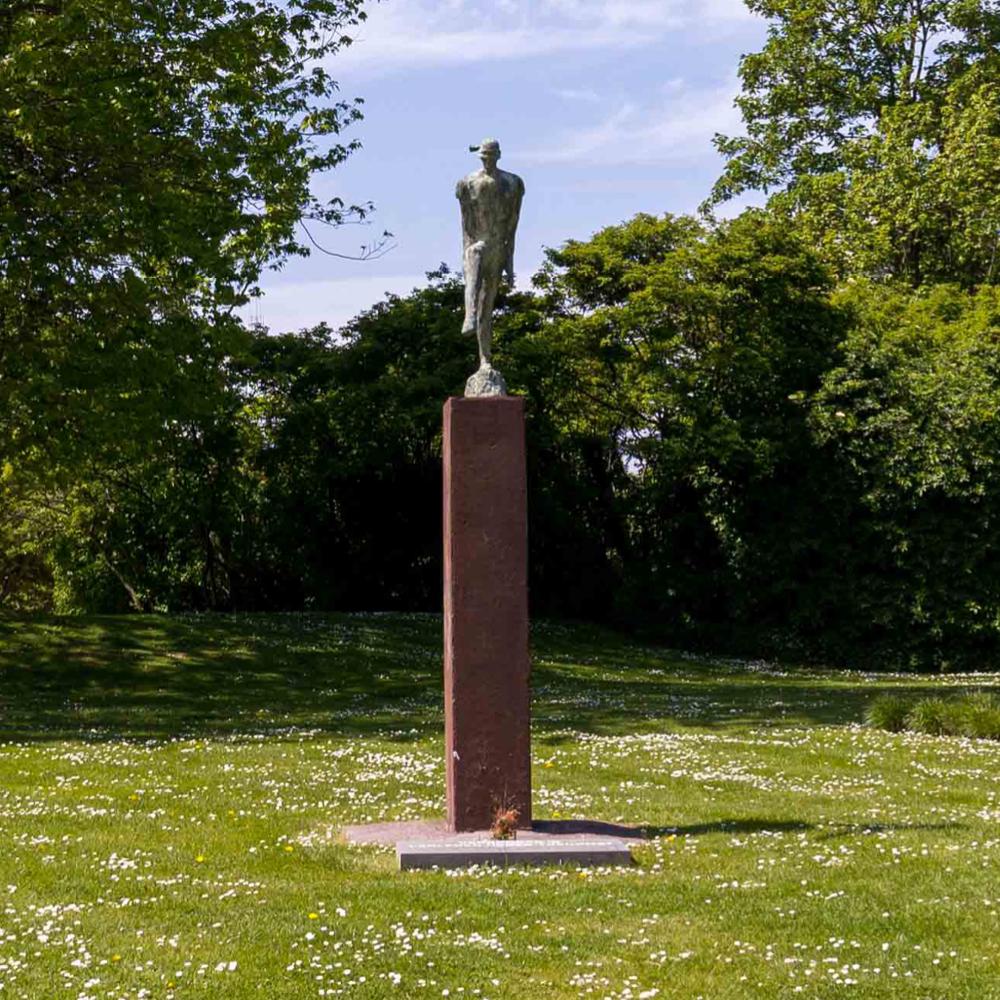 Jean BILQUIN (°1938, Gent) 
Title: De Stap (The Step)  
Year: 2001 
Material: bronze 
Dimensions: 140 x 55 x 110 cm 
Freethinkers such as Pierre-Théodore Verhaegen laid the foundations for the university's existence, with the idea that free inquiry in education and science should always be guaranteed. De Stap (The Step) is not only a reminder of what these initiators did for VUB in the past. The sculpture is also a nod to all those who work to realise the university's liberal values today, thus guaranteeing its flourishing future. 
De Stap (The Step) also evokes other interpretations. When looking at it, students may be reminded of the leap of faith they took when they first started studying at the university: a new programme, new encounters and perhaps even a new city. The restlessness that comes with that new beginning disappears when they mould themselves into scientists who, with their knowledge, dispel the darkness, as beautifully enshrined in the VUB motto 'Scientia Vincere Tenebras' - science will overcome the darkness. After all, a step into the unknown does not create fear, but is the exciting beginning of a new adventure, big or small.   
Bilquin himself has a rather cynical view of the symbolism of his work. He says that people have to take a thousand pointless steps in their lives in order to finally take one meaningful one, and then realise that that step, too, was pointless. The sculpture is therefore closely linked to the subject that takes centre stage in Bilquin's art: man, his constant changes and his search for meaning. The theme of De Stap (The Step) recurs in different variations throughout his oeuvre and is expressed in sculptures, etchings and drawings. The characters are always given a similar pose, characterised by a broad step, but they are depicted with different attributes such as a blindfold on their eyes or a long staff in their hand.  
De Stap (The Step) was created in 2001 and for a long time, it stood in Bilquin's own garden. In 2019, the sculpture was spotted there and donated to VUB by a humanitarian organisation. The artist was actively involved in the design and realisation of a pedestal for the work, which would serve to anchor it on campus. 
Plan your visit 
The Humanist Sculpture Park is open 24/7 and can be visited free of charge. 
Parking is available and the area is wheelchair-accessible. 
VUB Main Campus
Pleinlaan 2
1050 Elsene
Information about the sculptures
Each sculpture is accompanied by a QR code that gives access to an audio fragment. You can play it on your smartphone to discover the stories behind the sculptures. We recommend that you bring headphones for a more comfortable audio experience.