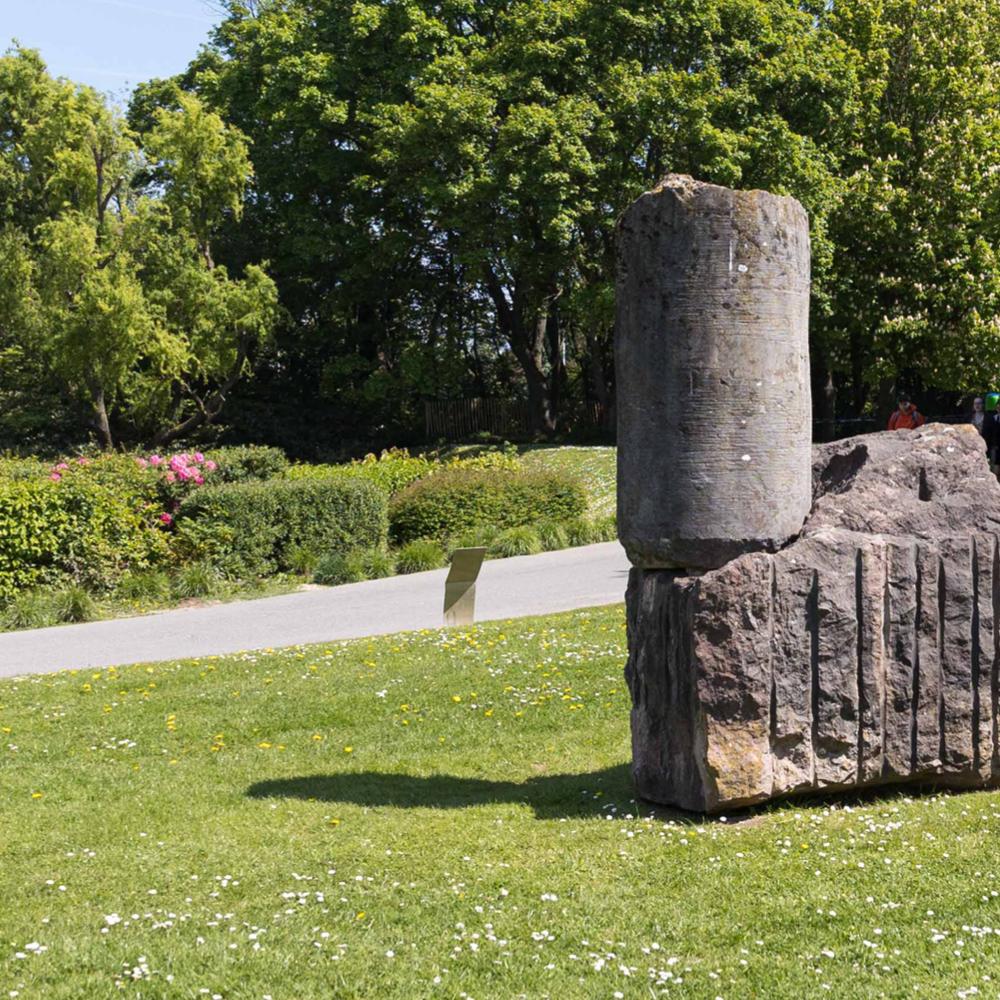 Jos DELBROEK (°1956, Bree) 
Title: Carotte 
Year: 1993 
Material: Belgian red marble 
Dimensions: 250 x 150 x 120 cm 
Jos Delbroek is not only a sculptor but also an architect. He is driven by a great fascination with quarries, and this is also evident in Carotte. The quarry provides the material from which a house can be built. It is therefore the thread that runs through the artist's various artistic practices.  
The Belgian red marble used for Carotte was extracted from the Philippeville quarry. The cylindrical stone, which the artist calls the 'carotte' (carrot), took on the shape of the drill shaft during the drilling process. The method of extraction also shaped the appearance of the cube-shaped stone. You can see that in the long, vertical grooves on the sides, for example.  
With Carotte Delbroek wants to make the viewer think about the long and unique history of the stones from which the sculpture was constructed. They were formed some 350 million years ago, long before man. Geological processes brought living matter to a standstill and transformed it into stone, an unchanging and inorganic material. The stone block embodies death not only symbolically, but also concretely through the presence of various fossils in the material. According to the artist, the stone confronts people with their own mortality.
The sculpture was first shown at the exhibition 'Mens en Symbool' (Man and Symbol), which was held in Bredene in 1993 and curated by Willem Elias. After that exhibition, VUB acquired Carotte a long-term loan. The official inauguration of the work of art on campus only took place on 18 May 1995, during the celebrations to mark the 25th anniversary of the university. 
Plan your visit 
The Humanist Sculpture Park is open 24/7 and can be visited free of charge. 
Parking is available and the area is wheelchair-accessible. 
VUB Main Campus
Pleinlaan 2
1050 Elsene
Information about the sculptures
Each sculpture is accompanied by a QR code that gives access to an audio fragment. You can play it on your smartphone to discover the stories behind the sculptures. We recommend that you bring headphones for a more comfortable audio experience.