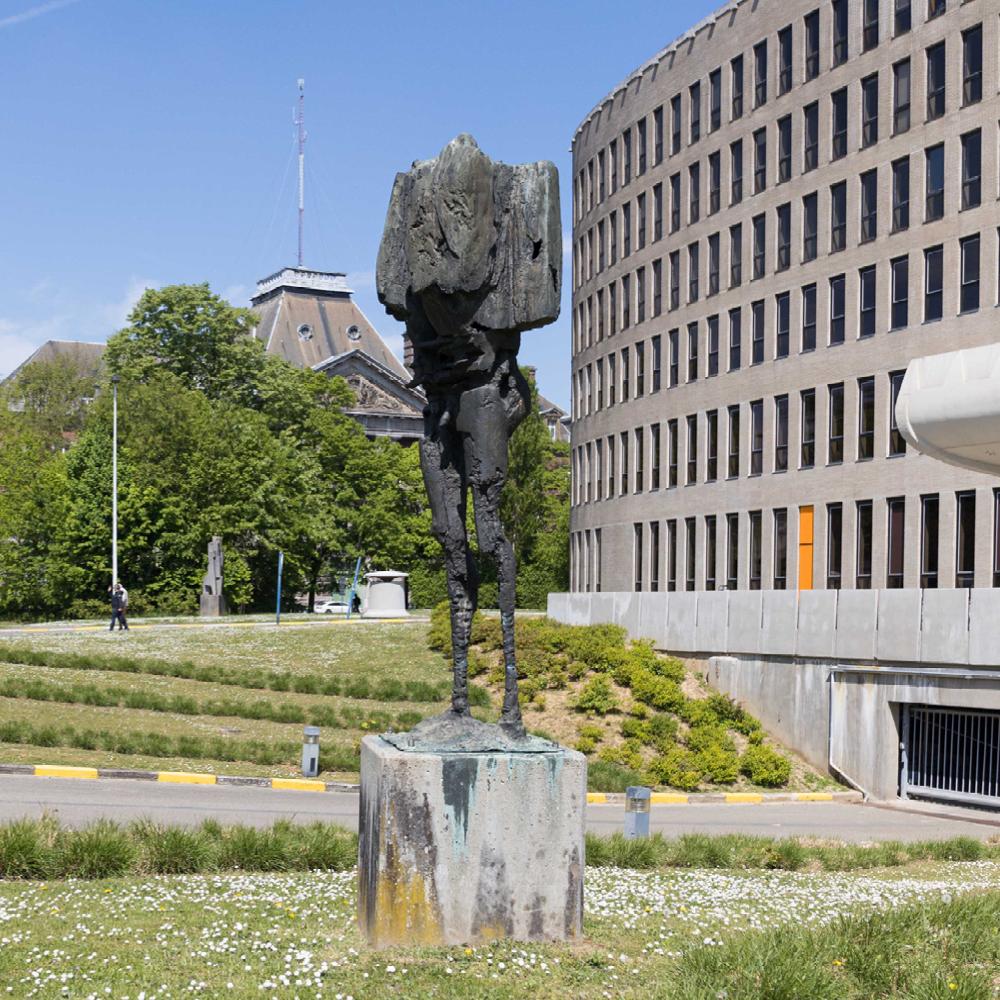 Paul VAN GYSEGEM (°1935, Berlare) 
Title: Enkidu  
Year: 1985 
Material: bronze 
Dimensions: 260 x 115 x 80 cm 
The epic describes the story of King Gilgamesh, the authoritarian ruler of the city of Uruk. Aruru, the goddess of creation, created Enkidu as the king's perfect counterpart. Although Gilgamesh and Enkidu initially fought each other, they eventually became bosom buddies.  
They decided to go in search of eternal life, and, in doing so, they challenged the Gods. Threatened by their fighting spirit, the Gods decided to break the friendship of the two heroes by killing Enkidu. As a result, neither of them succeeded in obtaining the desired immortality.  
The bronze Enkidu symbolises man's eternal inner struggle between the pursuit of unrealistic ideals and the confrontation with his own failure. This tension between fighting spirit and fear of failure is a recurring theme in Van Gysegem's works of art. According to the artist, the meaning of life lies precisely in that struggle, not in winning the battle. 
Van Gysegem got the idea of creating an open-air sculpture for the campus while strolling along the university's Esplanade in 1984. He believed that placing a large sculpture on the green plain of the campus would be a good solution to transform the 'aesthetic desert' that the university grounds were at that time. The idea was well received. In 1985 Enkidu was installed on campus in honour of the 15th anniversary of VUB. It was the second open-air sculpture that the university welcomed on its grounds.
Plan your visit 
The Humanist Sculpture Park is open 24/7 and can be visited free of charge. 
Parking is available and the area is wheelchair-accessible. 
VUB Main Campus
Pleinlaan 2
1050 Elsene
Information about the sculptures
Each sculpture is accompanied by a QR code that gives access to an audio fragment. You can play it on your smartphone to discover the stories behind the sculptures. We recommend that you bring headphones for a more comfortable audio experience.