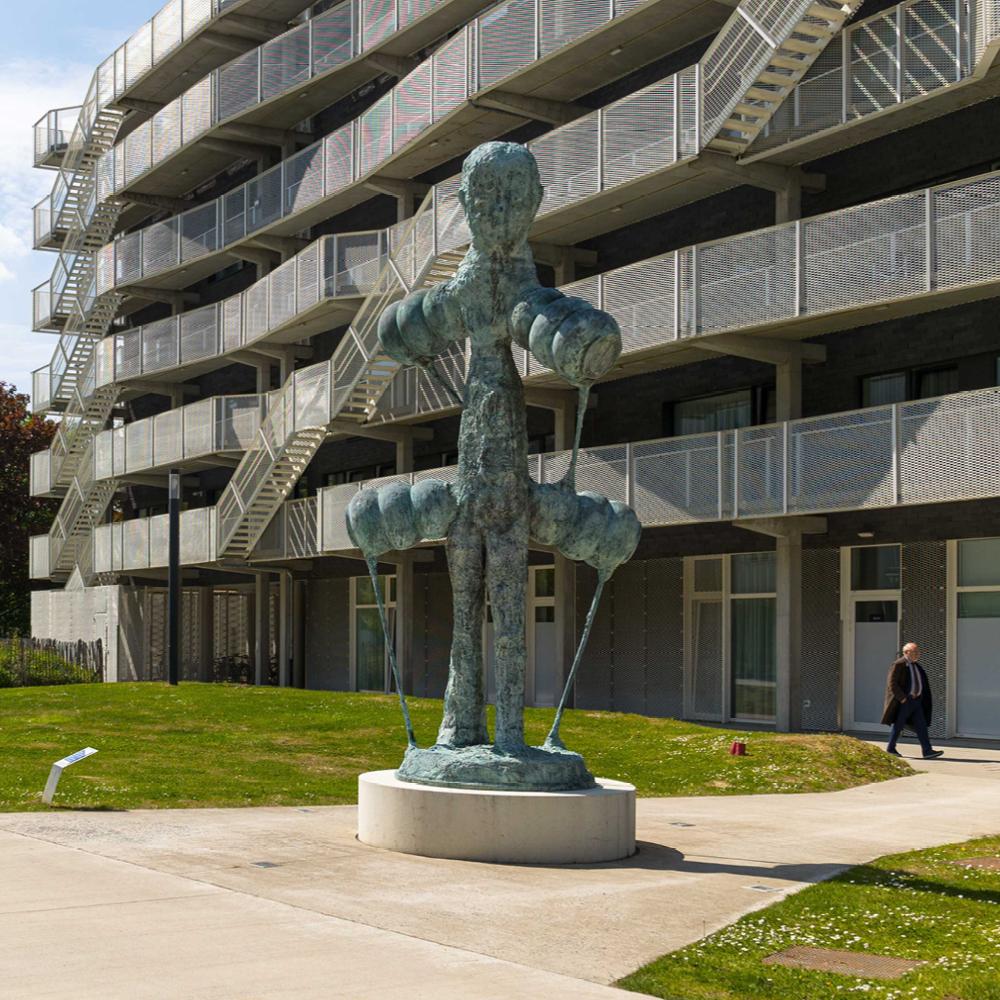 Johan TAHON (°1965, Menen) 
Title: Eros/Eroos 
Year: 2014-2019 
Material: bronze 
Dimensions: 500 x 210 x 210 cm 
The unfinished human being takes centre stage in Johan Tahon's oeuvre. The design of his sculptural figures is the result of his search for ways to represent the human condition and its extreme vulnerability. Through his works of art, he depicts the drama of modern man, characterised by insatiable desires that lead to frustration and disillusionment. The figures embody an essence, a presence or a way of being. They take the form of androgynous beings whose bodies deviate unnaturally from human anatomy. The perfection and divinity of the sculptures is unattainable because after all, their creator is only human.  
Tahon describes the creation of his works of art as a meditative and emotional process. He explains that the tactile experience of the clay he uses to start crafting each sculpture is closely linked to ritual, eroticism and sensuality. The bizarre figures that emerge from this creative process seem to be sunk into a strange immobility. They refer to a non-time zone, a silent point where the work of art comes closest to the divine. 
Tahon's typical design language is clearly expressed in the open-air sculpture Eros/Eroos: a human figure with strange bulges and swellings on its limbs. The work of art is named after the eponymous god from Greek mythology, known as the personification of love and physical lust.  
The monumental bronze artwork is a striking presence on campus, and for Tahon there is an important reason for this. It acts as a meeting place where new friendships and perhaps even new love stories can take shape. The artist invites passers-by to make physical contact with Eros/Eroos by touching it or sitting next to it. In doing so, he hopes that the sculpture can manifest itself as a mythical creature that spreads positive energy among the students who live, work and relax around it.   
The sculpture Eros/Eroos was purchased by VUB in 2019 as part of the newbuild project for buildings X, Y and I. For every subsidised building project, a small percentage of the total budget must be spent on the integration of art. An art advisory committee supported the university in the selection of several artworks based on project proposals submitted by artists. Tahon took five years to create Eros/Eroos and installed it on campus in 2019. 
Plan your visit 
The Humanist Sculpture Park is open 24/7 and can be visited free of charge. 
Parking is available and the area is wheelchair-accessible. 
VUB Main Campus
Pleinlaan 2
1050 Elsene
Information about the sculptures
Each sculpture is accompanied by a QR code that gives access to an audio fragment. You can play it on your smartphone to discover the stories behind the sculptures. We recommend that you bring headphones for a more comfortable audio experience.