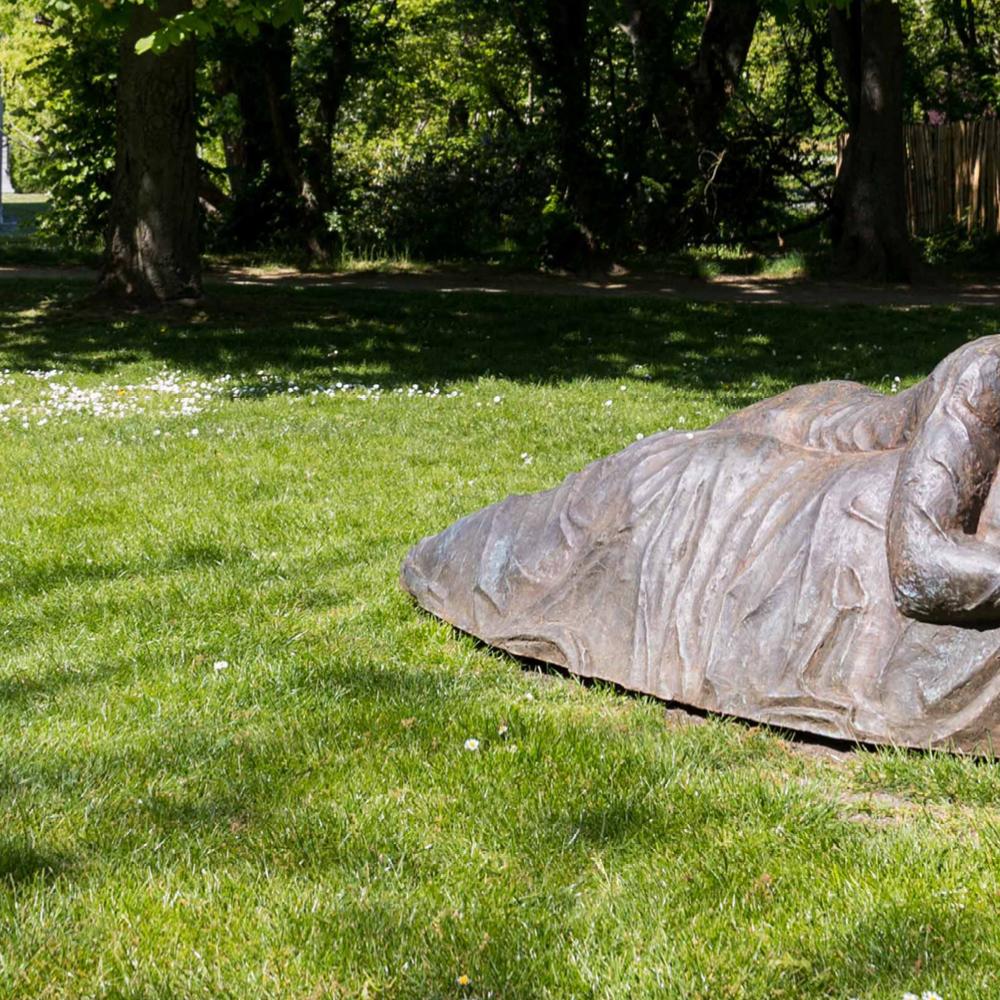 Philip AGUIRRE Y OTEGUI (°1961, Schoten) 
Title: Monument van troost (Monument of Comfort) 
Year: 2009 
Material: bronze 
Dimensions: 65 x 180 x 60 cm 
For Monument van troost (Monument of Comfort), Aguirre sought inspiration in a newspaper photo from 2003 that made a big impression on him. The photo shows a Spanish policeman trying to place his coat over a boat refugee who has washed ashore, as a gesture of comfort. The sculpture also has a biographical dimension: as a child, the artist's father fled the Spanish Civil War by boat after the bombing of Guernica. 
Monument van troost (Monument of Comfort) was created in 2009, but it was purchased for the campus of VUB by Rector Caroline Pauwels in 2019. By installing this sculpture on its grounds, the university symbolically confirmed its intention to become a 'Compassionate University' by 2021. This implies a number of concrete measures to promote the well-being of its community, carried out with the support of the End-of-Life Care Research Group, a joint initiative by Ghent University and VUB. The initiative is inspired by the worldwide movement 'Charter for Compassion', which puts compassion centre stage and thus challenges the social trend of growing unfriendliness, indifference and selfishness.  
VUB recognises that situations such as grief, death, mourning, serious illness and long-term care are part of everyday life. However, Professor Luc Deliens observed that in today's society - which moves at a very fast pace - there is often little room for comforting words or deeds. Nevertheless, a compassionate environment is necessary at pivotal life moments, including at university, where there is often great pressure to perform and to excel.  
With Monument van troost (Monument of Comfort), the university offers its community a concrete place of reflection, a haven to retreat to and seek solace in adversity, loss or grief. Every year on 19 November, on the eve of the Saint V celebration, a minute of silence is observed at the artwork in memory of deceased employees and students of the university. 
Plan your visit 
The Humanist Sculpture Park is open 24/7 and can be visited free of charge. 
Parking is available and the area is wheelchair-accessible. 
VUB Main Campus
Pleinlaan 2
1050 Elsene
Information about the sculptures
Each sculpture is accompanied by a QR code that gives access to an audio fragment. You can play it on your smartphone to discover the stories behind the sculptures. We recommend that you bring headphones for a more comfortable audio experience.