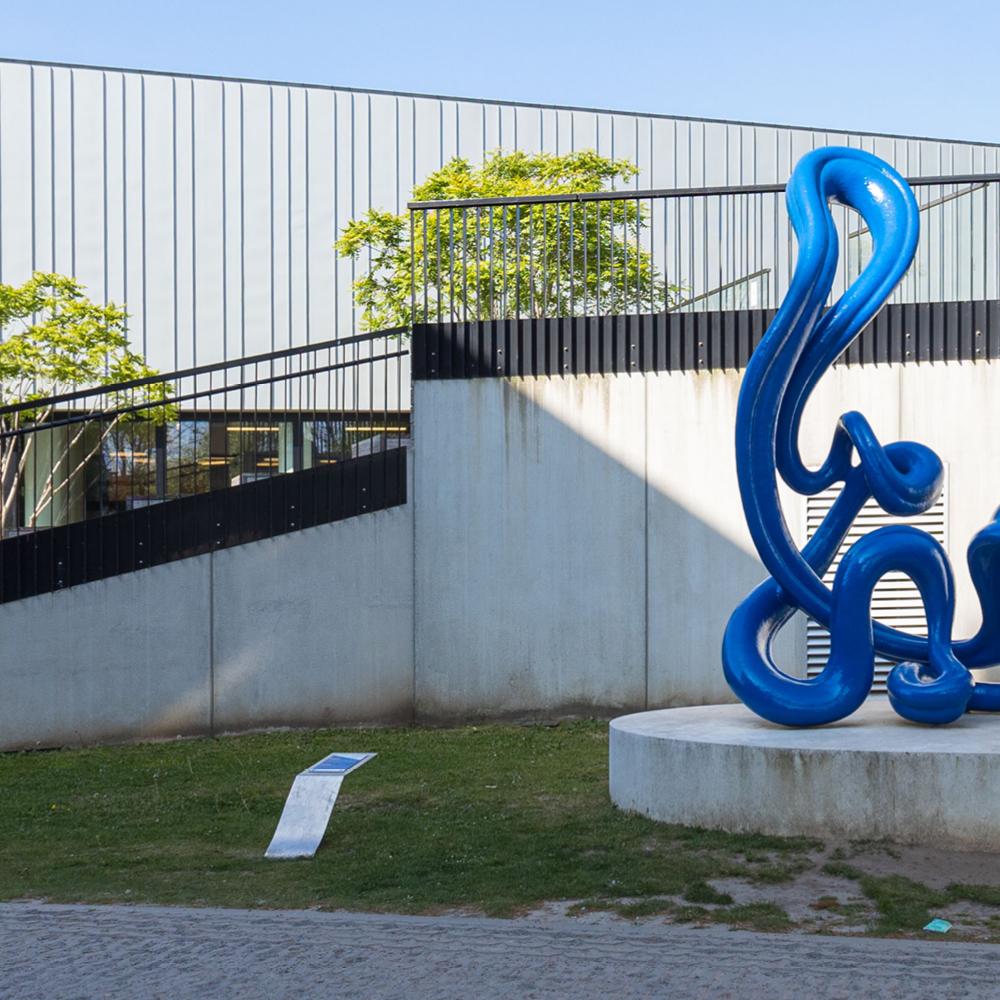 Nick ERVINCK (°1981, Roeselare) 
Title: REDNOYER 
Year: 2019 
Material: polyurethane, polyester  
Dimensions: 350 x 230 x 120 cm  
The organic design language of artist Nick Ervinck, which he describes with the term 'blobs', is governed by his own logic and rules. Straight lines, right angles and geometric volumes are deliberately avoided. He is inspired by shapes from nature, such as corals, antlers and organs. Ervinck is fascinated by the works of Henry Moore and Barbara Hepworth, who were the first sculptors in Western art history to use negative spaces in their sculptural design language. Ervinck usually executes his artworks in yellow, a colour which has fascinated him since childhood and which still predominantly characterises his oeuvre to this day. However, he steered clear of this colour in the open-air sculpture REDNOYER.  
The blue colour and undulating shapes are a perfect match for the artwork's location by the swimming pool. Ervinck's intention was to design a visually attractive sculpture that would make people feel warm and happy. The unusual shape was created by using polyurethane foam, a light material that Ervinck carefully cut into the desired shape in his studio. He then covered it entirely with polyester, which was sanded to obtain a smooth surface. The finishing touch, a layer of blue lacquer, gave the work of art its striking, shiny appearance.  
If you look at the work closely, you will see a reflection of the surroundings, the clouds and the sun. The enigmatic title REDNOYER, like the titles of Ervinck's other works of art, came about through a free play with language. In the same cryptic way, the artist also coined the term MNEMOSYNE, which refers to the whole of his oeuvre. 
REDNOYER was purchased by VUB in 2019 to mark the renovation of the swimming pool. For every subsidised construction or renovation project, a small percentage of the total budget must be spent on the integration of art. An art advisory committee supported the university in the selection of several artworks based on project proposals submitted by artists. 
Plan your visit 
The Humanist Sculpture Park is open 24/7 and can be visited free of charge. 
Parking is available and the area is wheelchair-accessible. 
VUB Main Campus
Pleinlaan 2
1050 Elsene
Information about the sculptures
Each sculpture is accompanied by a QR code that gives access to an audio fragment. You can play it on your smartphone to discover the stories behind the sculptures. We recommend that you bring headphones for a more comfortable audio experience.