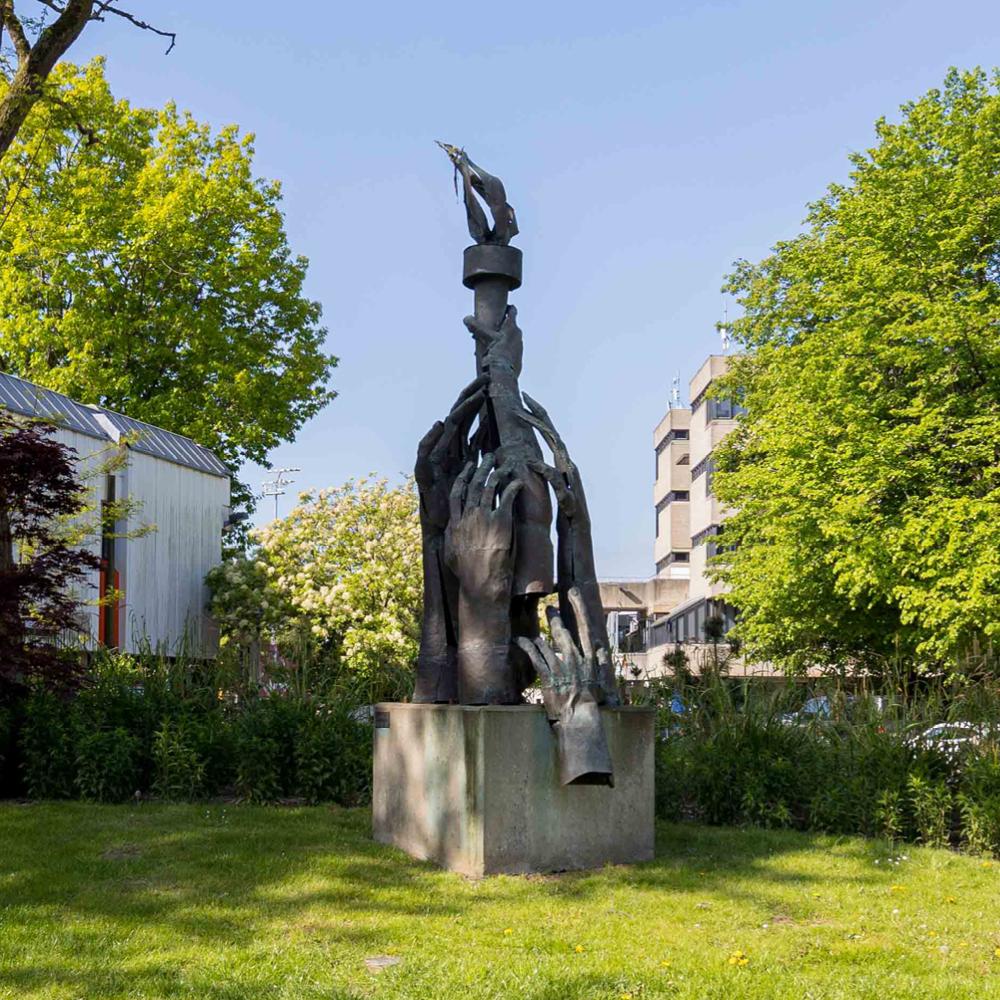 Lin YANG-CAI (°China) 
Title: Tiananmen Memorial  
Year: 1990 
Material: copper 
Dimensions: 350 x 160 x 90 cm 
In 1989, protesters took to the streets to express their dissatisfaction with the Communist Party in China, demanding more democracy in the country. During the occupation of Tiananmen Square, the protesters even placed a replica of the American Statue of Liberty on the square as a symbol of their ideals. Since the violent repression of the Chinese Spring, the country has to this day suppressed all communication about the bloody event.  
One year after the facts, in 1990, Tiananmen Memorial was placed on the VUB campus as a symbol of freedom. The torch is a reference to the Statue of Liberty that stood on Tiananmen Square during the protests. The memorial plaque features an appropriate verse by the Chinese poet Bei Dao.
This open-air sculpture was placed on campus thanks to a collaboration between the University Centre for Development Cooperation (UCOS) and the Monuments Committee of the Chinese Student Community in Belgium. They financed its realisation by selling protest stickers. The non-profit humanist organisation Humanistisch Verbond vzw,  Studiekring Vrij Onderzoek and the Brussels Student Association GTGV also supported the project. The university gave the initiators permission to place the sculpture on its campus because it values democracy and freedom of speech. 
In 2019, Tiananmen Memorial was put in the spotlight once again thanks to the redesign of the surrounding area. The 'Three Friends of Winter' were planted around the memorial, namely bamboo, pine and plum trees. These plants are often found together in traditional Chinese gardens and in Chinese art. The choice of plants also refers to the events in Tiananmen Square as a cold period in China's history. At the same time, the plants symbolise the hope that spring will come, as these plants blossom again and again in spring.
Plan your visit 
The Humanist Sculpture Park is open 24/7 and can be visited free of charge. 
Parking is available and the area is wheelchair-accessible. 
VUB Main Campus
Pleinlaan 2
1050 Elsene
Information about the sculptures
Each sculpture is accompanied by a QR code that gives access to an audio fragment. You can play it on your smartphone to discover the stories behind the sculptures. We recommend that you bring headphones for a more comfortable audio experience.