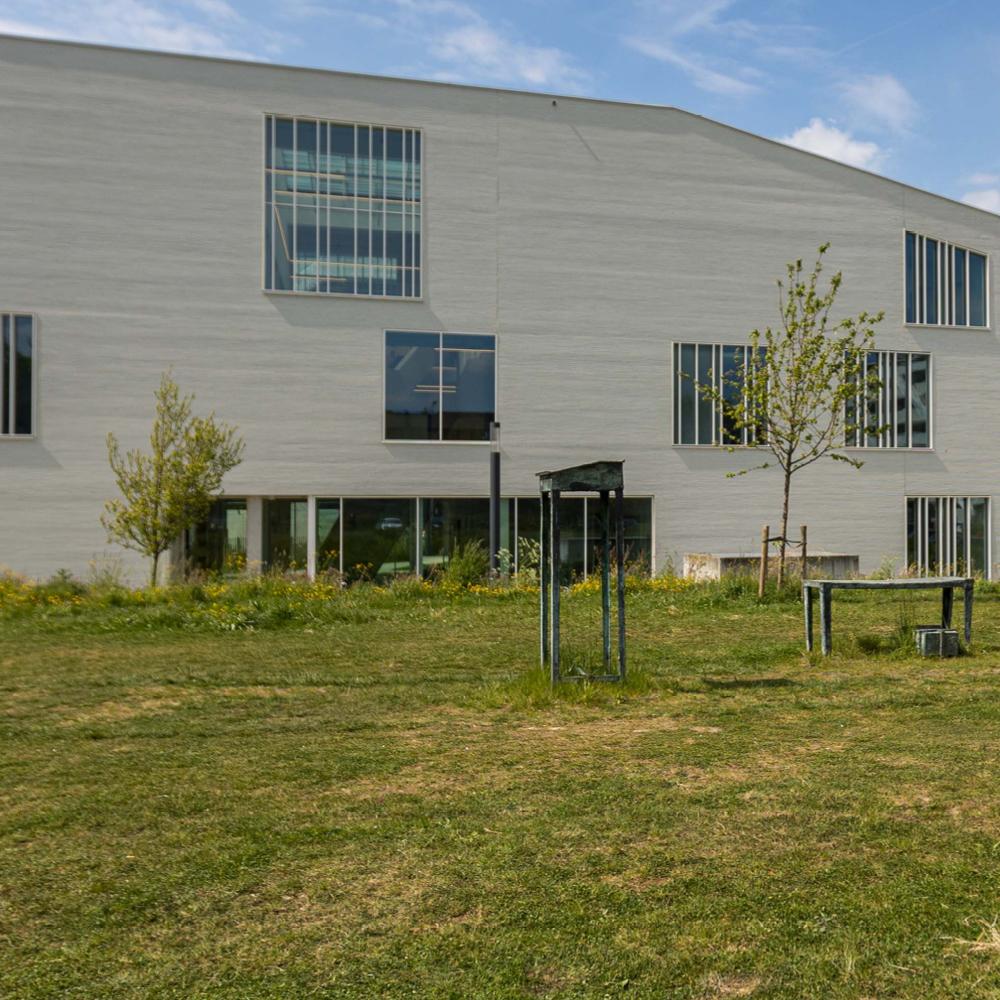 Mark CLOET (°1964, Oostende) 
Title: Mia Casa 
Year: 2003 
Material: bronze 
Dimensions: 
197 x 54 x 54 cm 
72 x 162 x 53 cm 
27 x 40 x 61 cm 
61 x 68 x 75 cm 
Although each of Cloet's works is a subtle self-portrait, as an artist he adopts a very modest attitude. He prefers to keep the stories behind his work hidden so as not to influence the viewer's interpretation. In this way, he disproves the idea of the artist as a figure who influences the way a work of art should be interpreted. He tries to convey the meaning behind his works to the viewers through the emotions they evoke in them. In this way, Cloet expresses his desire to make the invisible concepts behind his art objects visible. 
The autonomy of personal interpretation also takes centre stage for the sculpture Mia Casa. Each of the five objects carries its own meaning. The work table, for example, represents silence. It is a place that refers to both birth and death, a place where words are superfluous. The horizontal surface carries the body that 'becomes' or then again 'un-becomes'. The pulpit symbolises the declamation of the spoken word; it is also a place where free thought is expressed. The verticality of the object is reminiscent of the body that rises when speaking. The work table refers to the internalisation of knowledge through in-depth study, repetition, interpretation and reflection. While writing, the body assumes a sitting posture and words are shaped physically. The chest symbolises hidden content, a collection of safely stored possibilities. According to Cloet, the viewers and their personal interpretation are also an indispensable part of the work of art.  
Mia Casa was purchased by VUB in 2019 as part of the newbuild project for buildings X, Y and I. For every subsidised building project, a small percentage of the total budget must be spent on the integration of art. An art advisory committee supported the university in the selection of several artworks based on project proposals submitted by artists. Around Mia Casa, a new apple orchard was planted, which can be accessed via a desire path. Apple trees also grew around the former Kultuurkaffee, which had to make way for the new building.
Plan your visit 
The Humanist Sculpture Park is open 24/7 and can be visited free of charge. 
Parking is available and the area is wheelchair-accessible. 
VUB Main Campus
Pleinlaan 2
1050 Elsene
Information about the sculptures
Each sculpture is accompanied by a QR code that gives access to an audio fragment. You can play it on your smartphone to discover the stories behind the sculptures. We recommend that you bring headphones for a more comfortable audio experience.