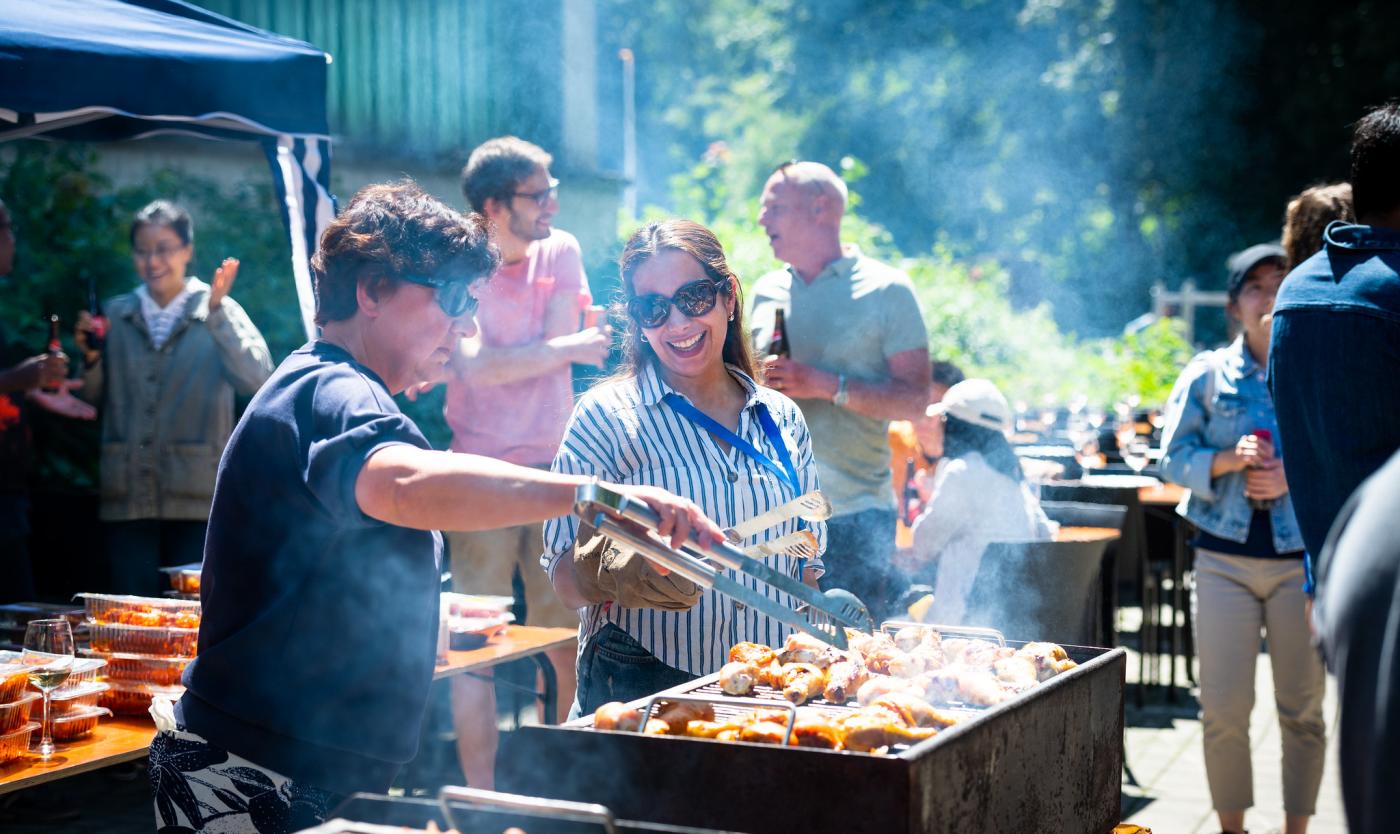 The BBQ and campfire areas are the perfect setting for a cosy get-together. However, a number of rules apply. That way it stays fun and safe for everyone!
Reserve your spot
Give notice of your activity at least 3 working days in advance through Ultimo. If you want to bring tents or canopies, state this on your application. State clearly whether your event will take place on the VUB Main Campus or VUB Health Campus. Please note that there is only 1 BBQ available at the latter.
Don't have an ULTIMO account? 
Send an e-mail to infradesk@vub.be
You will receive confirmation by email that the BBQ zone is available at the time of your scheduled activity.
Collect the BBQ grill
On the day itself, collect the BBQ grille from security. In Etterbeek, security is situated in building X4, next to entrance 6. In Jette, you need to be at 1900B, under building A (door to the Technical Department).
Think of others
Enjoy! But be sensible, as VUB cannot be held responsible for any damage or accidents. Consider your fellow students and lecturers and do not cause a nuisance. Security can put a stop to your activities if they think it necessary.
Leave nothing behind
As the organiser of the event, you are responsible for leaving the BBQ zone clean and tidy. You must bring your own bin bags, into which everyone can place their rubbish, and take them away with you. Don't allow anyone to leave any litter. By all means leave the charcoal in the BBQ, but, with a view to fire safety, make sure that the fire has been extinguished before you depart.
Clean the BBQ grill thoroughly and return it to the security staff. You can do this by 12:00 PM. on the day after the activity. If you do not, we will have to charge you for a new one (€ 200).
What if you don't tidy the BBQ zone? Then you will be billed for the clean-up. This may affect for your applications for activities in the future.
Safety first
Be sure to have two buckets of water nearby at all times during the BBQ. If you wish, an extra fire extinguisher can be obtained from security.
Do not place tents or canopies too close to the BBQ.
The cook doesn't drink: even a BBQ has a designated driver.
Wear appropriate clothing and use the right cooking utensils. Never use methanol, petrol, benzine, fire gel or petroleum to light the coals. Do not place alcoholic drinks near the flame.
The use of your own BBQ grilles is not permitted.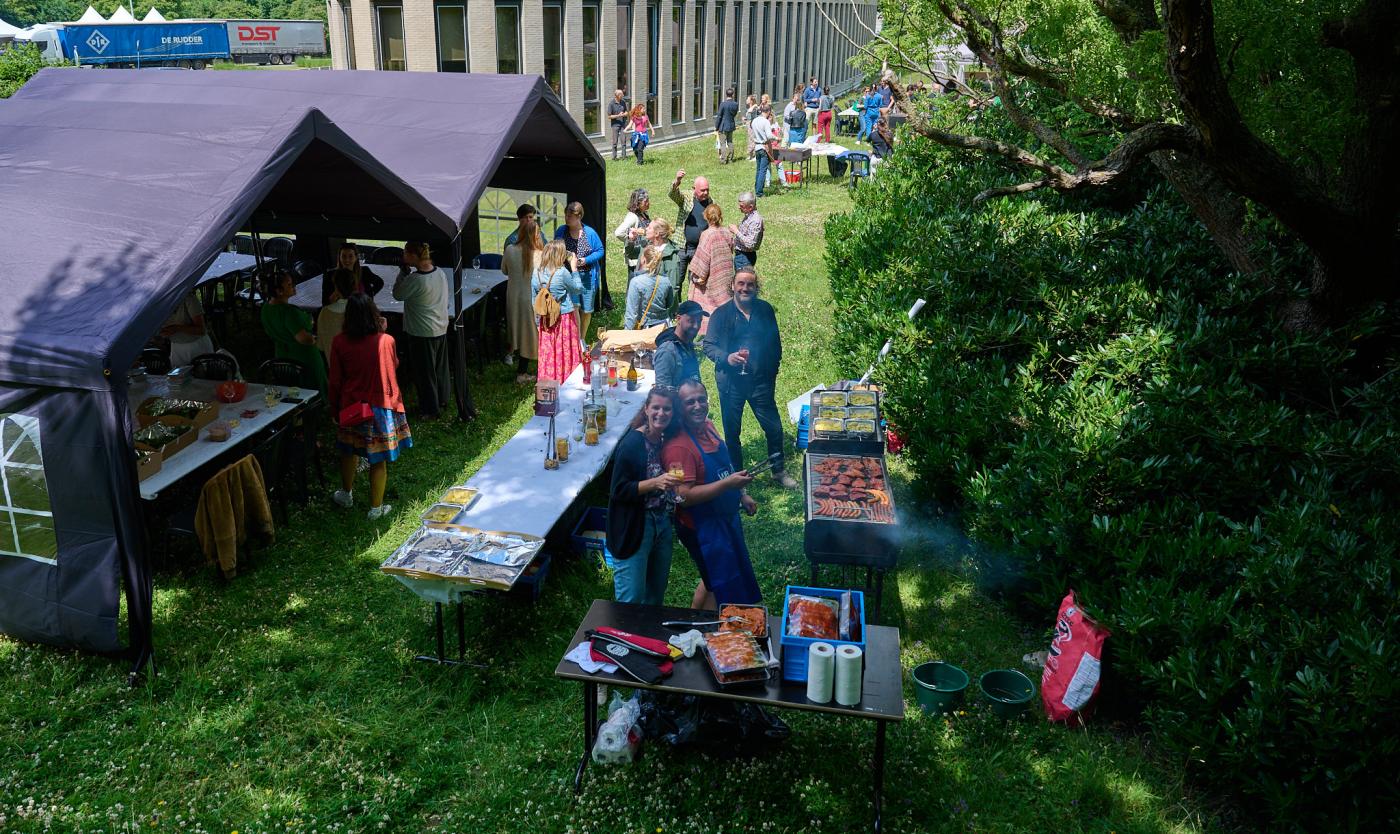 In case of emergency
Has someone come into contact with the flames? Do not panic, but call security immediately on +32 2 629 21 76. Tip: programme the number into your phone now. If necessary, security staff will call the emergency services via 112.  
While waiting for assistance:
Do not let the victim run, as this can fan the flames.
Lay the victim on the ground and extinguish the fire with water, a fire blanket or a piece of heavy material like a jacket or blanket. Roll them on the ground (always away from you!) until the flames extinguish.
In the case of burns: water first, the rest comes later. Cool the burn for at least 15 minutes in cold, gently running tap water. If there is no running water, use wet cloths.
Never apply (burn) ointment or cream to a burn wound. Use water only.
Remove clothing only if it is not attached to the burn.
Do not give the victim anything to eat or drink.